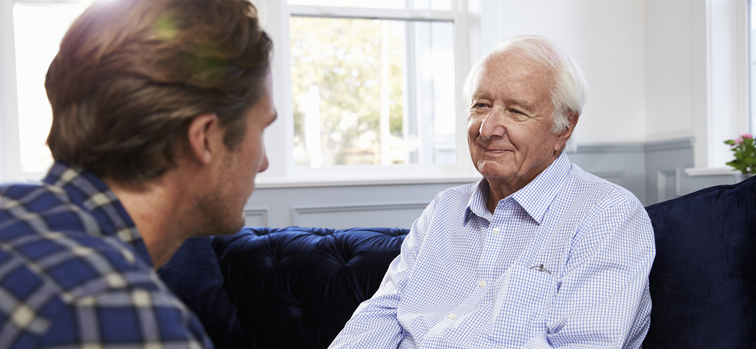 When a loved one has dementia, it can be difficult to know where to begin. For the adult child who receives a distressing diagnosis, or who notices changes in an aging parent, it can be hard to make sense of the sheer volume of new information and options. Fortunately, today's senior living landscape offers a range of options to ensure that Mom or Dad enjoys not just a safe living space but a community rich with possibility.
The right senior living community will offer practical support to a person coping with dementia, helping guide him or her through his or her daily tasks. In some situations, the right environment can even help alleviate symptoms and slow deterioration. What's the right senior living situation for a loved one with dementia? It helps to first know the different options available.
Planning Ahead
When is it time to start thinking about the specialized housing needs of an older adult with dementia? Experts point to a number of key signs that ought to awaken loved ones to the possibility that it may be time to consider the housing situation.
A loved one may, for instance, have difficulty carrying out conversations or putting thoughts into words. You may see changes in mood, or an older person may have trouble following instructions. Early stages of dementia also may cause an inability to recognize places or trouble completing familiar daily routines.
No single change will necessarily indicate an imminent crisis. Still, when an older person exhibits these or other early signs of dementia, loved ones may take that as a sign that it's time to start considering a change in housing.
Why look at housing? Dementia is a complex diagnosis, one that brings with it myriad changes for both the older person and the loved ones committed to his or her well-being. Safety becomes a paramount concern, and for this reason alone, the choice of one's community needs to be considered with some care. Living alone may no longer be a practical option, in which case, it makes sense to start exploring alternatives before the condition has progressed to the point where finding a senior living option will feel rushed.
But there's more to consider than just the dark and scary aspects. Adults with any stage of dementia can live rich, fulfilling lives if they reside in an appropriate setting. Alzheimer's need not diminish one's daily pleasures: activities, social encounters, the joys of art and music, the simple delight of a shared meal. Senior housing can and should deliver these regardless of one's mental acuity or any other physical limitation.
That's why it is especially important to give early and thorough consideration to one's senior living options when facing a diagnosis of dementia. A thoughtfully chosen community can offer a bright, engaging environment for any older adult.
Senior Living Options for Loved Ones with Dementia
Memory Care or Alzheimer's Special Care
Memory care neighborhoods cater specifically to people with Alzheimer's and other forms of dementia. Specially trained staff are equipped to work with individuals at all stages, ensuring their safety while still providing recreation and other amenities.
Assisted Living
Assisted living offers a more supportive environment in terms of daily care, with some degree of health support available. It's an attractive option for family members seeking a greater breadth of amenities than a nursing home might offer—a salon, fitness center, social activities. Assisted living provides more hands-on care than an independent setting while still treating residents with respect, recognizing their autonomy and their desire to engage in ongoing personal growth and learning. For those with dementia, additional support may be available to help them navigate through their days.
Independent Living Community
For older adults with a diagnosis of dementia who are able to manage on their own throughout the course of a day, independent living affords a great deal of autonomy. These communities provide social engagement and enrichment opportunities. For loved ones selecting a community, it's important to consider whether or not Mom or Dad is truly able to get to meals, manage appointments, and fulfill other daily tasks. If so, independent living may be a great fit. In some cases, it makes sense to find a community that can grow with your loved one, a community with a mix of resources available to accommodate changing needs as dementia progresses. Finding such a community up front can save multiple moves down the road.
Nursing Homes
Nursing homes offer a more intensive level of intervention, with round-the-clock medical care and supervision. This can be beneficial for those unable to manage their own daily needs. Older adults with less intensive medical needs may feel constrained in this setting, and loved ones need to carefully consider the older person's level of autonomy before moving to this higher level of care. Unlike in assisted living, nursing homes may have a more institutional feel: Residents use furniture supplied by the home, and they adhere to schedules based on staff availability rather than individual preference.
A diagnosis of dementia can be a frightening experience not just for an older adult but also for loved ones concerned with that individual's welfare. Fortunately, a variety of housing options exists to support those dealing with cognitive impairment, communities that not only help an individual cope but can even help slow down the progress of symptoms. By starting early and taking a clear-eyed look at the options, loved ones can ensure they find the best possible fit for their parent's unique physical, emotional, and cognitive needs.