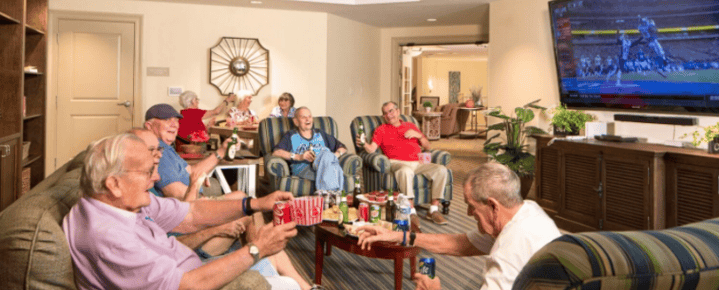 The concept of assisted living sometimes conjures up negative misconceptions of loved ones suffering through a reduced quality of life, disinterested staffers and boredom, but these stereotypes can actually prevent seniors and their families from truly understanding assisted living and confidently making the decisions that are best for their loved ones' well-being.
The fear of boredom is especially vexing—the idea that once a senior enters assisted living, life becomes dull. For the best senior living communities, this is anything but the case. Understanding senior living is understanding that quality of life, including events, social life and amenities, should be the primary focus of communities and their staff. Here is how this goal is accomplished:
Forget the Clichés
Surely, you have heard the stories or have seen depictions on TV or in movies of "typical" activities in assisted living communities. The clichés are familiar: bingo games, jigsaw puzzles, balloon volleyball or sitting in a common area watching television for hours on end. And though occasional bingo nights and puzzles can be entertaining, these clichés imply that this is all assisted living has to offer. Forget the clichés—in 2017, the best communities shatter the stereotypes that many people hold onto concerning amenities, social life and events for their residents.
Luxury Is the Norm
An assisted living facility might consist of rooms and beds, but communities are so much more than that. The luxury that communities provide puts residents first. Beauty salons, fitness centers, restaurant-style dining rooms and cozy libraries turn assisted living into an experience—with the emphasis on the living. This level of luxury naturally extends to the events that communities offer and the social opportunities available to residents.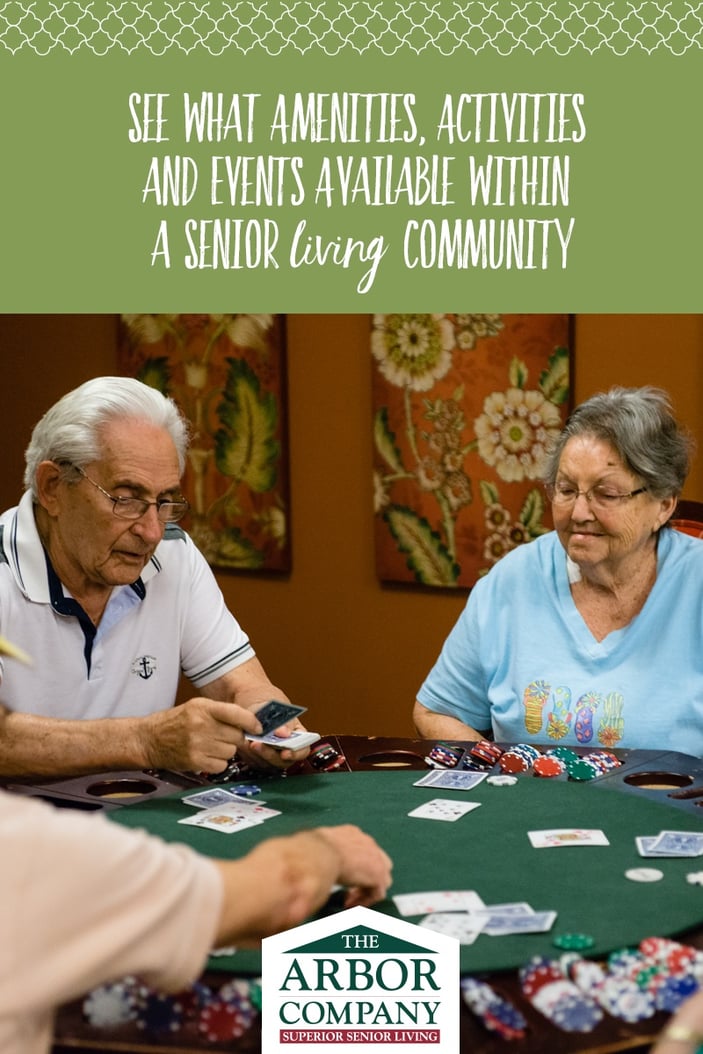 Events and Activities
The emphasis upon an active lifestyle is key to understanding assisted living. This not only prevents the boredom many seniors and their families fear, but also offers concrete benefits such as reduced depression and increased cognitive health. Moreover, events and activities strengthen the social life of residents, thus helping counter the loneliness that many seniors feel on their own. Events and activities that our various communities offer may include:
Group fitness classes:

Studies have shown that seniors who regularly exercise are healthier, both mentally and physically. Group classes such as yoga, tai chi and water aerobics offer their respective exercises in a social setting.

Clubs of all sorts:

Whether someone prefers gardening as a hobby, reading, or getting out for a good walk, the best assisted living communities offer a variety of clubs to appeal to seniors' interests. And because these groups are clubs, again, the social aspect is emphasized.

Art and pottery classes:

Creative seniors can use and hone their skills and engage with others through art, pottery or ceramics classes.

Group outings:

Regularly scheduled outings to museums, concerts, sporting events, holiday lights and other events and activities are important opportunities for seniors not only to get out and about but also to enjoy life beyond their assisted living community.

Music, music, music:

On-site concerts give residents a chance to enjoy excellent music, and karaoke machines and singalongs allow them to make some music as well.
Amazing Amenities
We've already touched upon some of the amenities that the best assisted living communities provide. Here is a deeper look at those offerings and more:

Fitness centers:

State-of-the art equipment helps residents stay fit, whether they are working out on their own or with the help of qualified staff.

Swimming pools:

Some communities may offer swimming pools that provide an opportunity for exercise or just someplace to lounge by and enjoy the sun.

Barbers and beauty salons:

Residents don't need to make a trip off site to stay looking good.

Spa days:

Everyone deserves some pampering, and spa days bring that pampering to residents on site.

Restaurant-style dining rooms:

Don't call it a cafeteria—the dining rooms at the best assisted living communities feel like a normal restaurant, providing nutritious and delicious meals, as well as another social opportunity to enjoy with friends.
Clearly, quality assisted living transcends the clichés many people hold about community activities and events. Families can be confident that the highlight of their loved ones' days won't be "Under the G, 57…."