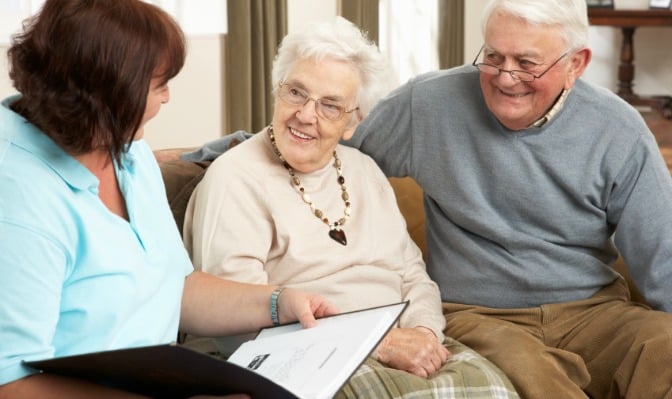 When determining what senior living option would be best for you or a loved one, you may find yourself thrown into a world that you have minimal experience with. How can you tell if whether you will need to choose assisted living or skilled nursing, memory care services or independent living?
It is best to understand each subset of senior living in order to make the most informed decision and the wisest investment. In an effort to shed some light on assisted living communities and help you find assisted living options that will truly work for you, we have compiled some things to keep your eye out for when touring and investigating an assisted living community.
Are the apartments safe?
Assisted living apartments should feature safety items such as grab bars in the bathroom, as well as a step-in shower. There should also be emergency pull cords or another type of safety system within the apartments; some assisted living communities feature a pendant necklace for each resident that is connected to alert the nursing station if there is a fall or another emergency.
Does my doctor come here?
While you or your loved one can leave the community at any time to go to a doctor visit, it is a convenience if your family doctor already makes weekly or monthly visits to the assisted living community. Many communities offer this amenity and it can come in handy for check-ups or follow up visits, especially when the winter weather arrives. Alternatively, see if the community has an on-staff doctor and ask to meet them.
Are there good meal options?
Assisted living communities offer three meals per day in a social setting, the dining room. Assure that the assisted living community features choices for meal entrees as well as specialized diets to support medical diagnoses or goals that may come up in the future.
Do you deliver meals to my room?
Some assisted living communities will deliver meals to your room if you are unable to gather in the dining room. Ask what the policy is and if there is a service fee for that special delivery.
What spaces in the community do we have access to?
One of the best parts of an assisted living community is that visitors often have access to community spaces besides a resident apartment. Ask to see the library or computer lab, activity room, craft studio, living rooms, or other specialized meeting spaces that are available to residents and their friends and family.
Do you have Wi-Fi?
Most assisted living communities now know that residents are moving in with tablets and smart phones that require Wi-Fi access. Double check that the community offers access to residents and to visitors.
What types of programs are offered?
Assisted living communities often have very busy social calendar of opportunities, trips, and events that residents can take part in. Ask to see a copy of the monthly calendar; you can also ask to attend or sit in on an activity as well. Are these programs appealing? If not, find out how often new programs and engagement opportunities are added, and whether you can have input in what might be offered.
What medical and ancillary services are available on site?
Your assisted living community likely will offer more than just physician visits on the premises. Check to see if there are flu shot or pneumonia vaccination clinics, podiatrist, chiropractic care, massage, or dental visits available right within the community, and how often those services are offered.
Does the apartment suit our needs?
Apartments can range in size from studio to multiple bedrooms, and most assisted living communities offer a small kitchen. Realistically consider what you and your family will need for this space, while taking into consideration the benefits of downsizing, and see if the apartment would match these requirements.
What preventative and responsive measures are available for falls and illnesses?
A benefit of assisted living is the availability of staff 24 hours per day, 7 days per week. Make sure that you know how these medical practitioners work with residents and one another to prevent falls, accidents, and other medical emergencies that might lead to an unplanned hospital stay.
How involved is the Executive Director?
Assisted living communities are often led by an Executive Director. Ask if you can meet her, and find out how involved she is in the lives of the residents and staff. It is good to know, and trust, who is in charge of the community.
Good luck in your search, and know that the more information you are able to have before your tours, the more prepared you can be to ask questions that will assist you in making the right decision.