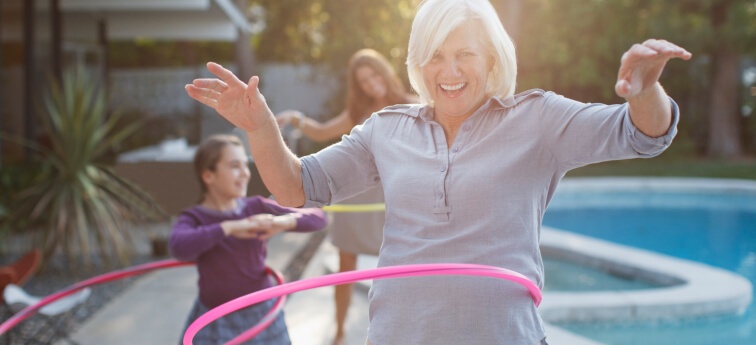 Aging is inevitable, but much about how you age is within your control. Researchers increasingly find that healthy living, a fulfilling life, and lots of social support offer a path to slower, better aging. The right senior living community makes it easier to remain active, happy, and in control, potentially helping seniors remain independent longer.
This month in senior living, the news is all about how quality medical care and healthy lifestyle interventions offer a path to a better life. Check out these buzzworthy news stories:
How Feeling Young Could Make You Younger
Do you feel young at heart? That could actually mean your brain is aging more slowly, according to recent research. Age affects everyone differently. Some people remain active into their 80s and 90s, while others begin slowing down as early as midlife. This so-called subjective brain age could be a better reflection of a person's age than the number of birthdays they've had.
The Arbor Company works to ensure that our residents always feel younger than they are. We believe everyone deserves a vibrant retirement, no matter what health issues they face. That's why we regularly plan activities that are both fun and engaging for our residents. For example, Arbor Terrace at Crabapple loves to experience cultures from around the world. Residents recently "traveled" to Hawaii, where they got to watch a live hula performance and learn about what makes the state so special. The Arbor at Bridge Mill recently hosted a James Bond-themed casino game night as part of its Grand Opening event. And a summer at Arbor Terrace Fairfax wouldn't be complete without their annual garden party. While the residents at this community love planting a variety of vegetables and herbs, they mostly look forward to the unique dishes the master chef will be able to prepare with them.
Most Senior Caregivers Don't Get Enough Sleep
Caring for a loved one with dementia can be many things: frustrating, rewarding, and above all, exhausting. According to a new study, nine out of 10 people caring for a loved one with dementia don't get enough sleep. Most people in the study got less than six hours of sleep each night. Some woke up as many as four times an hour. Poor sleep is a risk factor for dementia.
At Arbor, we know that caring for a loved one with dementia can feel exhausting and isolating. That's why we offer compassionate support groups. The Arbor at BridgeMill, for example, offers a monthly caregiver support group at 6 p.m. Let us help ease your burden so you can get some sleep and once again enjoy time with your loved one.

Can Quality Sleep Slow the Aging Process?
Senior caregivers aren't the only ones who can benefit from more sleep. A recent study of fruit flies found that bugs who didn't get enough sleep showed more signs of oxidative stress. Oxidative stress is one way that researchers measure aging. It has been linked to cancer, wrinkles, and virtually every other negative aspect of aging. If the results hold up in humans, this could mean that sleep is a potent anti-aging antioxidant.
We think that active, fulfilling days lead to restful nights. Arbor Terrace Peachtree City offers a monthly volunteer program. Residents help oversee an ice cream social at Oak Grove Elementary. At one recent social, a resident even had a chance encounter with a former student—now herself a teacher.
Most Adults With Dementia Don't Know They Have It
To treat dementia and plan for the future, you have to know you have it. Yet many doctors fear having these difficult conversations with patients. Some people with dementia don't even seek medical care. According to a recent analysis of federal data, 39.5 percent of people with dementia have not been diagnosed. An additional 19.2 percent did not know about their diagnosis.
The Role of Obesity in Alzheimer's
A high-fat, high-sugar diet that leads to obesity may increase the risk of dementia, a new study argues. The study found that obesity increased inflammation and cellular stress, two risk factors for Alzheimer's, in mice. The damage was especially pronounced in the hippocampus, a brain region associated with memory. Dementia causes significant damage to the hippocampus.
At Arbor, we think one of the best ways to fight obesity is to get moving. Exercise can be tough, and finding the motivation can be tougher still. That's why we offer a range of fun group activities all year long. These include social events such as dances, wellness programs such as yoga and fitness classes, and community game nights.
Retirement is what you make it. Make it something great. Make it count. Arbor wants to be your partner in healthy, rewarding aging. Want to learn more? Give us a call today at (404) 237-4026. Or find a community near you and stop by one of our many local events.