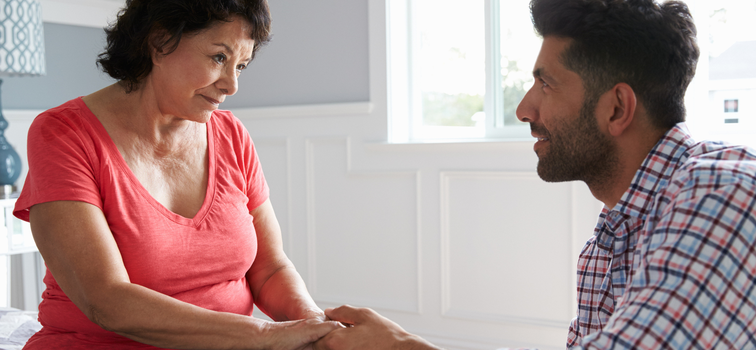 So often, adult children will say they "want to do what's right" in support of an aging parent. They want to provide all the care and support possible, but sometimes it gets to be too much. There comes a point where outside help, or even a change to a more suitable living situation, may be in order.
Recognizing the Need for Help
How do you know when it's time to call in reinforcements? When to begin looking for a community that more ideally suits Mom or Dad's needs and preferences? Here are a couple of factors to consider.
Mind the home front
Even caregivers with the best intentions can find their personal resources strained. Sometimes it shows on the domestic scene: Marital friction is an early indicator that you may be devoting too much time and energy to Mom's care and not enough to your own spouse. A marriage takes tending, and a caregiver who is too deeply enmeshed in supporting an aging parent can sometimes take an eye off the ball. Same holds true for parenting. If there's friction with the kids, it may be time to turn the focus back toward home.

Career check
The same adult children who care for their aging parents often have day jobs in addition to their other responsibilities. They have careers and bosses and coworkers, a complex web of relationships that cries out for proper care and feeding. As much as we may want to be on call for Mom's daily needs, the reality is that caregivers' own careers can take a hit if they become too enmeshed in trying to manage their parents' affairs. It's a warning sign to watch out for.
Loss of a spouse
Very often, an older couple will function as a team, with one spouse handling certain tasks such as balancing the checkbook and paying bills, while the other manages domestic chores and keeps the household running. Faced with the loss of a spouse, the survivor can easily become swamped, as he or she struggles to shoulder the burden of unfamiliar tasks. This may be a moment at which the adult children need to call for reinforcements as they endeavor to help Mom or Dad cope with a new set of critical tasks.
Failure to thrive
Sometimes the signs are subtle. Things are going along fine, and there is no immediate crisis, but after honest reflection, the adult child comes to realize that the parent simply is not thriving. He or she may be managing daily tasks and getting along well enough, but there is no joy or vibrance, no circle of friends, no sense of a rich and active life being lived. If that's the situation, it may be time to look for additional resources. You may identify support groups in the community that serve to engage older adults, or you may wish to look at a new living situation, a relocation to a vibrant community of older individuals who share common interests, a community organized to provide a rich and fulfilling experience to those in their later years. This time of life can be rich with joy and new experiences. A thoughtful caregiver will align resources in that direction.
A crisis point
Sometimes, unfortunately, the caregiver will realize that it is time to call for help only when a crisis arises. Perhaps an older adult has a fall or encounters a health setback. A person in the early stages of dementia may wander off or engage in questionable activities. There's a late-night call from a medical provider or, worse, the police. Sometimes a crisis will sneak up on us: Until things go south, we may not notice the small and subtle signs that a loved one is slipping. However it may come about, the crisis call usually is a definitive notification that it's time to seek reinforcements.
Next steps
Having come to this point, it's reasonable to begin thinking about possible next steps. A few options include:
Respite care, which may take the form of in-home help, adult day care or a short-term residential stay. The idea is to give the caregiver a break, time to catch up on other responsibilities and room to think about options going forward.
Assisted living offers the older person a safe and secure community, and may be an appropriate move if adult caregivers find they are stretched beyond their abilities.
Further information is always available for those who know they need help but are not yet ready to pursue a course of action. Social workers, medical professionals, and the caring providers of senior housing all are available to help support not just the older adult but also the caring sons and daughters as they navigate these complex seas.
For adult children caring for their older parents, it's important to remember that there is no shame in asking for help. Aging is a complex phenomenon and even the experts don't have all the answers.
There's no reason to go it alone.