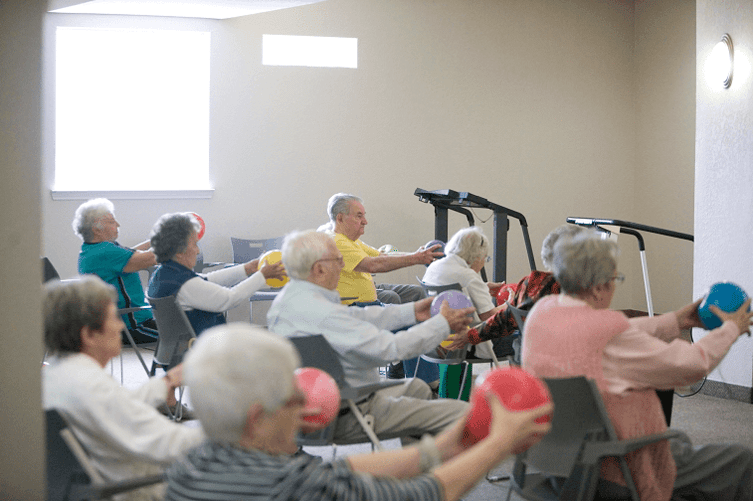 Not only has regular exercise been found to help seniors live more independently and prevent frailty, but research suggests that it can actually make them smarter, by improving brain function and cognition, too.
But many seniors find it hard to stick to exercise resolutions. Injuries and strains knock routines out of rhythm. Frustration and fatigue build when our bodies don't cooperate. And watching television just plain sounds better than working up a sweat sometimes.
The best exercise tips for seniors help prevent injuries through balanced routines that are fun and promote independence.
Seniors Should Ease into Exercise Routines
About 40 percent of injuries suffered at senior living communities were related to exercise, according to one study, and the most common injuries were muscle strains from overuse or overexertion.
You won't be able to stick to your resolutions to get into shape if you're sidelined by an injury. Warming up before your routine will help ensure that you aren't reaching for ice packs, heat pads, or muscle creams at the end of the day.
The National Institutes of Health makes a number of recommendations to help seniors kick their workouts off on the right foot:
Warm Up:

You've probably heard that you should start your exercise routines by stretching—and that's wrong. Marching in place or strolling the hallways to get your muscles warmed up for a few minutes before stretching will help avoid injuries resulting from stretching before your muscles are loosened.

First Stretch:

Only stretch in your desired position for as far as you can without feeling any pain, hold the stretch for 10 to 30 seconds, and relax and breathe before repeating the stretch.

During the Workout:

Stretch three to five times during a workout to help identify or prevent muscle tightness and don't forget to end workouts with a nice stretch, too.
Any health benefits that exercise offers to seniors can be quickly canceled out by injuries that limit their mobility, flexibility, or balance. First and foremost, seniors must do everything they can to avoid injuries and stick to exercise routines.
Seniors Should Build a Balanced Exercise Plan
Seniors should get about 150 minutes of moderate-intensity exercise per week to help build heart health, muscle strength, and overall mobility, the Centers for Disease Control and Prevention suggests.
And because overuse injuries are among the most common ones that seniors face, it's a good idea to have a diverse exercise plan that focuses on four key areas: balance, flexibility, strength, and aerobic endurance.
Here are a few tips to help build a well-rounded exercise plan:
Balance: Doing exercises like standing on one foot, walking heel to toe, back leg raises, and side leg raises will promote balance, which can help prevent falls that send 2.8 million seniors to the emergency room each year.
Flexibility: Doing exercises to help you maintain flexibility will make it easier to independently do activities of daily living like dressing and brushing hair. Neck stretches, shoulder stretches, shoulder and upper-arm raises, and upper-body stretches are among the most common flexibility exercises.
Strength: Slight changes in muscle mass can help seniors make big gains in remaining independent; try wrist curls, arm curls, side arm raises, elbow extensions, chair dips, and seated rows with resistance bands.
Aerobic Endurance: It's recommended that seniors do aerobic activities like walking, jogging, cycling, water aerobics, or dance at least twice a week, with 48 hours of rest in between to maintain and improve heart health

.
Easing into a balanced exercise plan will help prevent overuse injuries while promoting flexibility, balance, strength, and endurance that will help you remain independent for longer.
Find Ways to Keep Exercise Fun
The easiest way to stick to exercise resolutions is to keep your routine fun so that you look forward to it each week. And the best way to keep exercise fun is to incorporate your hobbies and personal interests. If you enjoy gardening, for example, make strolling the gardens or pruning plants part of your weekly routine.
Senior living communities are full of opportunities for residents to engage and stay active at the same time. Look around your community for these opportunities and don't be afraid to start new ones yourself:
Socialize:

Incorporate social time into your routine by inviting friends to join workout groups with shared goals; knowing that friends are expecting you to join them will make it harder for you to skip workouts.

Jazz It Up:

Try a new type of dance or spruce up your old routine with some new music that gets your blood flowing.

Change It Up: Don't walk the same route every week; explore new trails or different malls within your community to keep the scenery fresh.
Be Competitive: Find a low-impact yard game like croquet or bocce ball to play with your friends so that you can experience gains in balance, endurance, and flexibility in action.
In the end, the best exercise tips for seniors are the ones that will help them stay healthy and active for longer. That means proper warmup and limiting muscle and joint injuries through overuse and overexertion with balanced fitness routines that leave plenty of time in between for your body to recover. And finding new ways to keep your fitness time fun and interesting will make it easier to stick to your routines.