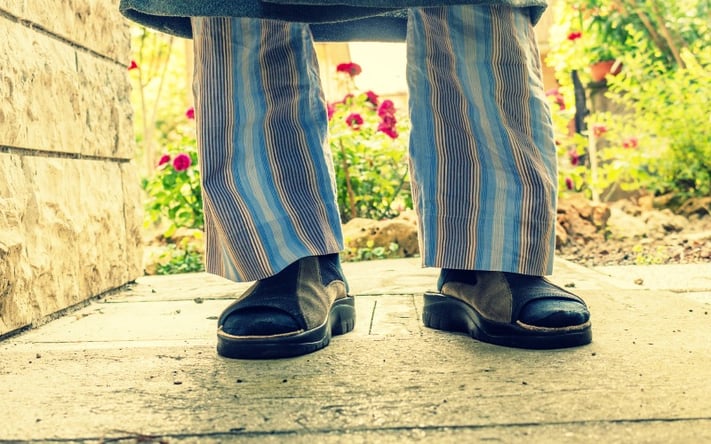 As we age, we find ourselves at a greater risk for certain health conditions or situations. For many older adults, falls are a major concern, and for good reason. The CDC reports that as many as 1 in 3 seniors fall every year. Even more troubling is that only half of those who do fall actually report it to their physician, which means that no recommendations or steps can be taken to prevent falling again in the future. Falls are the cause for many unplanned emergency room visits, prolonged hospital stays, and even deaths. In fact, it is estimated that 1 out of every 5 falls results in a broken bone - arm, hip, leg, or otherwise - and falls are often the source of traumatic brain injuries.
In short, falls are bad. But, seniors often find themselves with decreased strength and balance, due to a multitude of reasons, which makes this set especially prone to ending up on the floor from a fall. The good news is that falls do not have to be a part of the aging narrative, as long as you are actively working to prevent falling in the first place. Keep yourself and your loved ones upright as you take a look at preventing falls in your home.
Start in the bathroom
The bathroom is the number one place seniors fall, so take extra care to assure your bathroom is a no-fall zone. Eliminate any rugs that move easily; if you cannot eliminate rugs entirely, at least assure that your reduce sliding by adding textured tape to the bottom of the rug.
Take a close look at your tub or shower floor. Adding slip-proof stickers or mats will help keep wet feet from sliding, which will reduce the risk of falls due to slick surfaces. Finally, consider adding grab bars to the inside of the shower stall as well as near the toilet. You can even invest in a shower chair and removable shower head to make it possible to shower while seated; this is an especially good option if endurance and balance are decreased due to a medical condition such as Parkinson's.
Eliminate clutter
Take some time to tour around your home, looking for routes that are used most often. Consider the path from the bed to the bathroom or from the couch to the kitchen. If these routes are cluttered with large pieces of furniture, small rugs, electrical cords, or other fall hazards, look for ways to rearrange these in order to create a wide, clear path. Ideally, this path should be able to safely fit a person and any walking appliance that they may regularly use (a cane, a walker, a wheelchair, etc.). If possible, reduce tight corners or other hazards that may be difficult for a person with reduced mobility or vision to navigate.
Make nighttime easier
Falls happen at all times of day, but especially at night. Not only is one waking up to dark conditions during the nighttime, but sleepiness and disorientation can make it even more difficult than usual to navigate the hazards of a hallway or stairs. Be sure that you are not in the habit of leaving items on bedroom, bathroom, or hallway floors, and that stairs are clear of debris and clutter. Purchase nightlights with a light sensor and place them strategically along most-used routes through the house so that these will be automatically lit any time that your home is dark.
Work on your body
Falls happen for many reasons, but decreased strength, endurance, and balance can often lead to more frequent trips. If endurance is becoming a problem or if it is becoming a struggle to stand up from the toilet or couch, talk to a doctor. For many seniors, a skilled physical or occupational therapist can help provide new, safer ways to maintain mobility, or a family doctor can provide training to family members in how to safely lift and move a senior without risking injury or more serious falls. Frail bodies and weak muscles can be prone to damage and safe lifting is an important skill to learn if a parent or other elderly loved one is planning to move into your home.
Get assessed
If you aren't quite sure what level of fall risk there may be, make an appointment with a geriatrician. A skilled clinician has a multitude of fall risk assessment tools at their fingertips, many of which only take minutes to perform. An assessment can give your family physician, and you, a glimpse into what may end up causing a fall down the line so that you can better prevent it.
Consider your options
Sometimes, your home might simply be too large or unaccommodating for the physical or cognitive needs of aging. A bedroom on the second floor or a bathroom without space for a grab bar might be indicators that your home is not an appropriate, safe place to live with limited mobility. Independent living and assisted living communities offer apartments that are small enough to safely maneuver and feature the equipment and technology that is geared to prevent falls as much as possible and respond to them quickly and expertly if they do happen.
What have you done in your home to reduce the risk of falls? Leave a comment and let us know!