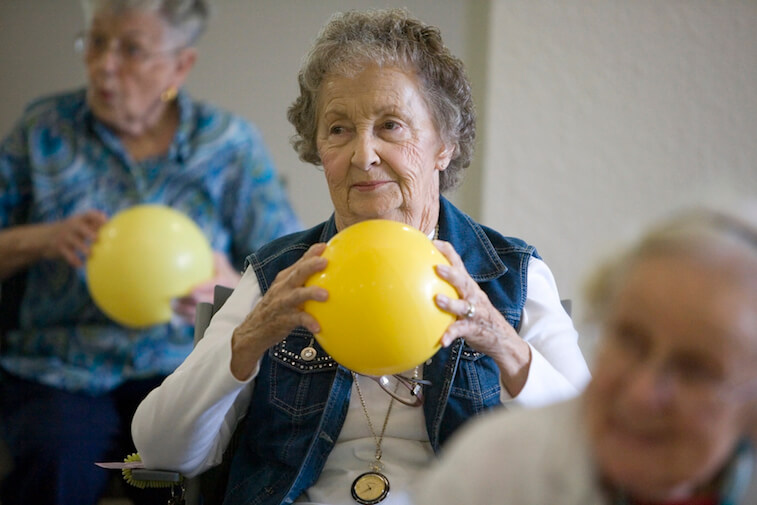 Staying active, both physically and socially, is a key component to healthy aging. According to the Centers for Disease Control and Prevention, seniors of all ages can benefit from regular physical activity. Even better, that physical activity doesn't need to be strenuous to achieve health benefits.
This means that no matter your abilities or conditions, you can always get the benefits from staying active. With fall coming, you may feel tempted to hunker down at home with a bowl of soup and a cozy sweater. Resist that urge to hurry into hibernation mode, instead making a commitment to your physical and emotional health this autumn. Here are a few of our favorite activities to get you started.
Take a Walk
There's no better time to hit the pavement for a walk than autumn. Cooler temperatures, beautiful leaves, and less crowded neighborhood streets (everyone is back to school!) makes a walk around the block a wonderful time to enjoy the fresh air while keeping your legs strong and balance on point. If you haven't walked long distance for a while, grab a friend or caregiver to keep you company. As your legs get stronger, consider adding a bit of distance to your walk. If you find yourself bored of the same scenery, consider joining a local walking group or moving your walk to a forest preserve or new neighborhood a few times per week. Don't forget to wear comfortable shoes!
Pick Up a New Hobby
If you need more motivation to head outside, consider taking up an outdoor hobby such as kayaking or bird watching. Or, pick up a field guide of local plants and head outside to see what you can find. If a little bit of mystery and adventure are required to get you motivated, try out Geocaching or even Pokemon Go! Both of these hobbies can get you outside and interacting with nature in a new way. If you aren't quite sure what you may enjoy, or how to get started with something new, try taking an introductory class at your Park District, Library, or Senior Center.
Go Picking
Head to your local apple orchard or pumpkin farm to pick your own produce. Bending, squatting, and pulling are wonderful range of motion activities that can keep your joints fluid and flexible.
Take a Group Exercise Class
Many Park Districts or Senior Centers start up with a new batch of classes and opportunities in the fall. Challenge yourself to finding one group exercise class that you can commit to attending for the next 8 to 10 weeks. You'll have a wonderful reason to get out of the house on those days, plus you will meet new friends and maybe even drop a few pounds. Be sure to read the class descriptions so that you know if you are getting into a class that requires moderate or strenuous activity, and how that applies to your current abilities.
Jump in the Pool
Autumn temperatures might mean it is too cool for hitting the pool in your area of the country. However, it can be the perfect time to try out an indoor aquatics class. Warm water mixed with peer socialization and range of motion exercises makes for plenty of health benefits, especially if you live with arthritis or balance issues.
Keep Up With Chores
There's a lot to be said about the activity that your body gets when you keep up with your household chores and daily tasks. Complete a load of laundry independently, cook your meals, and dress yourself - each of these activities builds strength and endurance, keeping your independent for even longer.
This autumn, challenge yourself to try something active and new. You will love what a bit of exercise does for your mind, body, and soul.