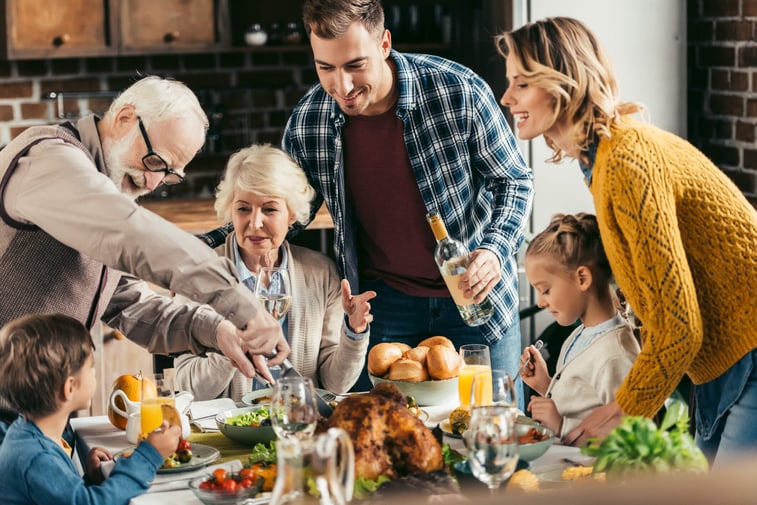 This month, everyone's abuzz with talk of Thanksgiving meals. As you page through mouthwatering recipes and delectable desserts, don't forget about the senior in your life. Taste buds change as a person ages, and health conditions such as dementia and gum disease can make it difficult for seniors to eat many holiday favorites.


Understand the Importance of Thanksgiving Traditions
As seniors age, family traditions may become more important. These traditions offer a sense of stability and continuity. This is doubly true for seniors with dementia, who may live as if they're in the past. When a senior has strong views about where and how to host the holidays, what to serve, and whom to invite, this may be their way of trying to regain control in a world that feels increasingly chaotic. Find ways to honor family traditions. For example, if your dad always cooked Thanksgiving dinner, perhaps you could cook dinner this year but still host it at his house.


Plan Senior-Friendly Meals
Senior-friendly meals should take into account the difficulties many seniors have with eating, without making seniors feel stigmatized or excluded. Thanksgiving is a time for celebration, so plan a meal that honors seniors rather than leaving them out. Some common problems include:


Swallowing and chewing difficulties
Many forms of dementia affect swallowing and chewing. Periodontal disease and dentures can also make chewing difficult. Soft foods, such as well-baked sweet potatoes, lump-free mashed potatoes and gravy, and meatloaf are great options. Replace desserts such as pecan pie with softer, creamier options, like chocolate or pumpkin pie.


Dementia-related self-feeding challenges
Dementia affects a person's ability to plan and coordinate activities, and can also reduce motor skills. This means that many people with dementia may have trouble cutting their food or deciding on the right size for a bite. Pre-cut food rather than cutting it at the table, because the latter may make a person with dementia feel like a child.


Restricted diets
Many traditional holiday foods are rich in sodium and high in sugar, making them less-than-ideal choices for seniors with cardiovascular disease, kidney health issues, or diabetes. Talk to a senior's doctor ahead of time about their eating restrictions, then try the following:
Switch out less healthy options for healthier fare. Sweet potatoes are lower on the glycemic index than traditional baked potatoes.
Watch the sodium content. Apparently, "healthy" foods like green beans can be filled with salt.
Focus on balance over time. If a senior eats a balanced, low-sugar diet during the day, there may be room in their daily sugar allotment for a small dessert. Specialized diets do not have to mean deprivation. Moderation is key here.
Weigh the value of fad diets. There's little evidence that a keto diet offers any benefits, or that people without celiac disease need to avoid gluten.
Include a Senior in Thanksgiving Meal Preparation
If the matriarch or patriarch of the family has passed the Thanksgiving meal torch, honor their previous contributions. Even if they can no longer cook, your loved one wants to be involved and helpful. Find a way to involve them in meal preparation. For example, you might ask them to set the table or mix up simple ingredients.


Find a Reason to Move
Physical activity can help seniors stay healthy for longer. Additionally, many seniors with dementia have trouble sitting still. As dementia and other illnesses progress, movement becomes more difficult, putting seniors at risk for bedsores, blood clots, and other serious ailments. So plan a physical activity after the meal. A family walk, a game of hide and seek, and playing on the floor with the family dog are all simple, easy ways to get everyone the exercise they need.
At Arbor, we believe that meals should offer more than just nourishing food. A good meal is a springboard for discussion, and dining together encourages families to take time out of their busy day to be with one another. We know that, for some seniors and those who love them, the frustration of age-related illnesses often turns meals into a reminder of everything a senior can't do. Our Dining with Dignity program is the perfect antidote. We offer nutritious and delicious gourmet dining to seniors of all ages and ability levels, so that no one feels excluded or demeaned. To learn more about how Arbor supports seniors on the aging journey, call us!