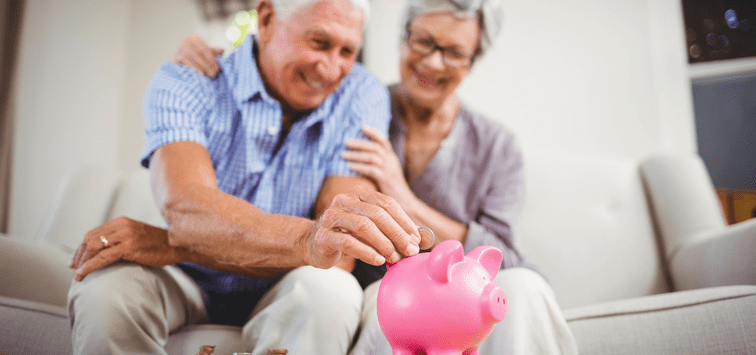 Two-thirds of seniors need help performing some of the activities of daily living. Many will eventually need some form of care. Quality care is not cheap. It requires skilled, highly trained caregivers, a safe living environment and plenty of activities to keep the mind and body as active as possible.
Don't leave your care to chance. If you must rely on Medicaid or state-sponsored programs, you'll have fewer choices and may need to meet specific medical criteria. Saving for your own care empowers you to choose the senior living community that best suits your needs and to make the choice when you want to—not when someone else tells you it's time. The following tips can help you save for the highest-quality care.
1. Know That Every Little Bit Helps
It's easy to be intimidated by the price of senior care, particularly if you look at the price tag associated with dementia care and other intensive services. It's true that you might not be able to save up the full cost of senior living, but that doesn't mean you should give up saving. Even a small nest egg can give you more choices.
For instance, if you have money in savings, you could look into paying for a home health aide while you research other options. Or, you could use those funds to get your home ready to sell, which could result in more income that you could use for care.
2. Look Into Long-Term Care Insurance
One of the best ways to ensure you have enough money is to invest in long-term care insurance. Seniors may have to pay more for this valuable form of insurance, but it's worth every penny. The right policy will pay for the care you need when you need it. Just be sure to shop around, ask lots of questions, and seek the input of an independent insurance broker. Like other forms of insurance, not all long-term care plans are good bets. You must know exactly what you're getting when you sign the contract.

3. Ask About Employee Benefits
If you're still working, your employer may offer a wide range of employee benefit plans that can eventually help fund your senior care. Ask about long-term care insurance, as well as disability policies. If your employer offers a retirement savings matching program, max out your annual contributions. This money will eventually help fund your retirement, and therefore may also help pay for senior care.
4. Consider Downsizing
Most people spend far more money than they need to lead a comfortable life. Consider looking at ways to conserve financial resources. One of the simplest options is to downsize to one car or to move to a smaller house or apartment. You'll spend less on maintenance costs, and selling your property offers a lump sum that you can invest and save.
Some other options for scaling back expenses in order to prepare for the cost of senior living include:
Canceling memberships you no longer use.
Calling service providers, such as your cable or internet company, to ask about a lower rate. Many will happily slash your fees to keep you as a customer. That extra $20 or $30 a month can quickly add up if you sock it away in a savings account.
Eating more meals at home. Eating out is expensive, so why not master some new recipes and invite your family over for dinner.
Find free local events rather than shelling out lots of money to travel or attend expensive shows. This is a great way to meet new people, and the quest for affordable fun can be its own adventure.
5. Get Help from an Expert
No matter your financial situation or saving strategy, getting help from an expert is critical. You may be eligible for Medicaid or other forms of assistance. However, the choices you make can affect eligibility. So it's important to know how to intelligently spend and save your money.
Consider scheduling a consultation with a lawyer who specializes in estate planning and elder care, as well as a financial planner or advisor. They can work with you to devise an actionable plan tailored to your unique financial goals and concerns.
Senior care doesn't have to be unaffordable. In fact, for many seniors, the costs of independent living are actually lower than the costs of living at home. Want to explore how much you need and compare costs? Try our cost calculator. For more details on the cost of senior living, contact us today!