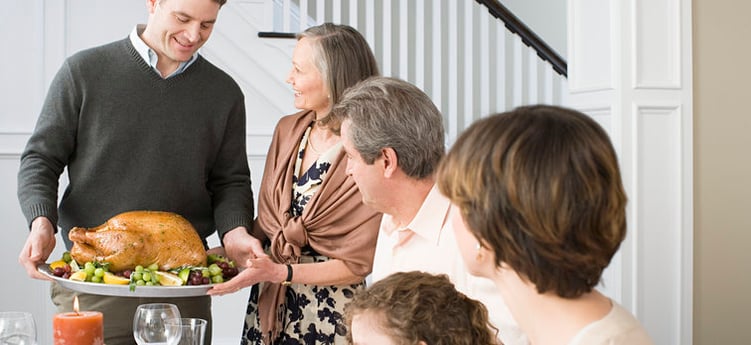 Thanksgiving is on the horizon, which means you are busy planning your menu and shopping for ingredients. This year, be sure to add a bit of extra forethought into how you will adapt your family Thanksgiving experience to best include your aging loved one. With just a few additional preparations, you can be sure that your loved one will have a great time, will be safe, and will enjoy him- or herself. Here are a few of our favorite tips for making this Thanksgiving successful for your whole family.
Transportation Considerations
Safely transporting your senior loved one to and from the Thanksgiving dinner's location is the first task to prepare for. Be sure that you know the limitations or challenges that your loved one may have when moving into a car and how you can work within those constraints. If your loved one needs assistance transferring to and from your car to a wheelchair, you may want to secure a caregiver to assist you with this task. If you are confident that you can transfer your loved one safely, be sure that you have a gait belt and sturdy shoes so that you can do so without injuring yourself.
If your loved one lives in a senior living community, tell staff members your anticipated pick-up and drop-off times. Not only will this ensure that your loved one is dressed, primped, and ready to go, but the staff members can also package any medications that your loved one will need to take while at your home. Be sure to ask staff members to pack any additional supplies that you may need for your senior loved one, such as extra incontinence products or any nutritional adaptive equipment.
Environmental Considerations
The location of your family's Thanksgiving feast should also be safe for your loved one. Depending on your family member's mobility, you may need to ensure that there is a clear path throughout the home that can accommodate his or her walker or wheelchair. Further, if your loved one prefers to sit in a wheelchair at the dining room table, be sure that table suits his or her wheelchair height.
For seniors who may have some cognitive issues, a loud Thanksgiving party can be overstimulating and could cause frustration or anxiety. Instead of asking all of your relatives to keep it to a low roar, have a quiet location ready for your loved one to use to relax. A spare bedroom or another space in the home could be just the quiet spot to catch his or her breath.
Dietary Considerations
Your Thanksgiving menu may need to be altered just a bit to meet your senior loved one's needs. Talk with your loved one or with the staff at his or her senior community, to find out if there are any dietary restrictions or concerns. If you are unsure what you could make to meet those needs, ask for the community's dining manager or chef to call you with some ideas. He or she will love sharing his or her expertise with you, and you will learn how to better prepare your Thanksgiving meal.
You may need to alter recipes to include less salt or have a sugar-free option ready for dessert. If your loved one has swallowing difficulties, a quick pulse in the food processor can make turkey easier to chew and swallow.
A New Location
Finally, it may be impossible for your loved one to leave his or her senior community for Thanksgiving this year. If this is the case for you, rest assured that you can still celebrate this important holiday with your loved one. Many senior living communities have a big Thanksgiving meal, and families are invited to attend as well. Check to see if this is the case at your loved one's community and if you have to RSVP to get a seat at the table. Bring your cell phone so that you can make a few calls to family members who weren't able to attend your senior community feast, and sneak in a slice of your famous pecan pie for the two of you to share.
Thanksgiving is less about the food and more about the connection to family and friends. By considering your loved one's transportation, environmental, and dietary needs, you will help him or her feel welcome at your event. Happy Thanksgiving!