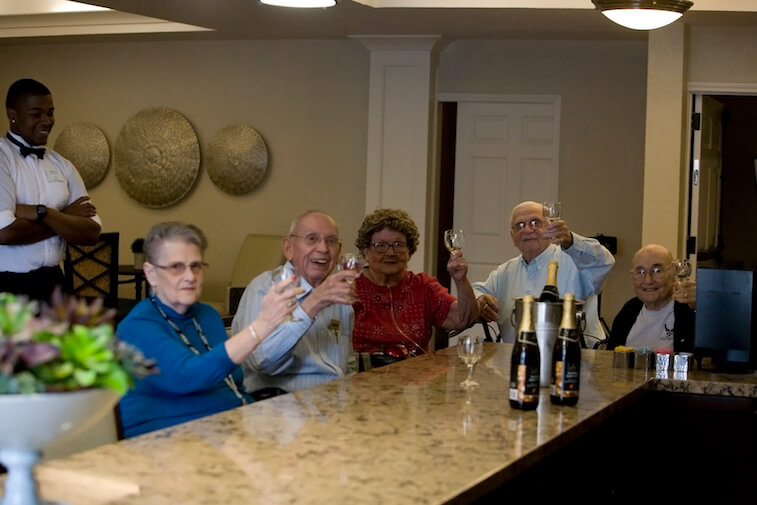 Families of senior living residents often joke that their loved one has a busier calendar of social events and planned activities than their younger family members do — and that doesn't happen by accident.
The busier and more engaged seniors are, the happier and healthier they are. With that in mind, our communities offer a range of activities that encourage socialization, mental stimulation, physical wellness and community building.
So, if residents never seem to be in their rooms when family members call, there's probably a good reason for that. Here are just a few activities for seniors from our communities:
Activities Combining Fitness and Socialization
Senior fitness programs don't just improve the physical health and mobility of seniors in our communities. These activities are also a great way for residents to have fun and blow off steam with their neighbors.
Senior fitness doesn't have to be boring, either. We find ways to make them timely, fun and engaging. A few examples include putting competitions during the PGA Masters Tournament, summer cornhole competitions and senior-friendly Olympic activities.
These types of senior fitness programs that combine socialization and physical activity have been shown to improve the physical and emotional health of seniors. Seniors who regularly participate are typically able to maintain activities of daily living (ADLs) longer, get sick less frequently, experience fewer accidental injuries and see lower healthcare costs.
Breaking into Song and Dance
Music is a great way for our residents to engage with each other to put on performances that enrich our communities. There are also many individual benefits for seniors who partake in musical activities.
Our youth music programs partner seniors with children to put on memorable intergenerational musical performances that are a hit for all ages. Sock hops and seasonal musical performances provide even more opportunities for residents to engage.
In addition to making great music and fun performances, music has been shown to positively impact the cognitive, emotional and physical health of seniors. It has even been shown to alleviate stress and to slow age-related cognitive decline while bringing about overall feelings of pleasure and accomplishment. Simply put, the benefits of musical activities for seniors are many.
Enjoying Spa Day
Everyone loves to be pampered from time to time. Spa days provide a great way for our residents to relax and unwind while enjoying a little "me" time.
Spa days that include aromatherapy, neck wraps, massages, spa music, manicures and plenty of pampering have proven to be favorites of all residents, from assisted living to memory care.
In fact, activities like hand massages and other forms of therapeutic touch used in spa days have been shown to reduce agitation behavior in residents with Alzheimer's and other forms of dementia. Slow-stroke back massages also help relieve expressions of agination like pacing, wandering and restlessness. So, spa day activities for seniors aren't just relaxing — they're therapeutic, too.
Observing Holidays with Festivities, Events and Decorations
Holidays offer special opportunities for residents to engage in holiday-themed activities, to add festive decorations to their communities and to welcome family and friends in to celebrate.
Year-round holiday activities like dressing in Halloween costumes, trimming Christmas trees and hanging garland, Hanukkah happy hour, Thanksgiving feasts, egg hunts with grandchildren and green beer on St. Patrick's Day enable residents to observe old traditions, and to establish new ones. Perhaps most important, these festive celebration help build a strong sense of community.
Community Outings and Day Trips
Sometimes a break from the daily routine is just what the doctor ordered. Venturing into the community for outings and day trips encourages social interactions and adds variety to the daily routine of residents.
Fun, light-hearted outings keep seniors engaged in the outside community as well. Visiting museums, taking in performances, going on lunch outings, attending library events, volunteering with nonprofits or even just getting ice cream are a few examples of activities that enable seniors to engage with the community and take in new experiences.
What's more, engaging with the outside community has a powerful effect on seniors. It improves their quality of life and fills them with a sense of connectedness. There are health benefits too. Engaging with the outside communities can actually help prevent cognitive decline in seniors and enhance mobility, research shows.
We'd love to have you join us during one of our many activities at our communities. Schedule a tour today to take part in the fun!