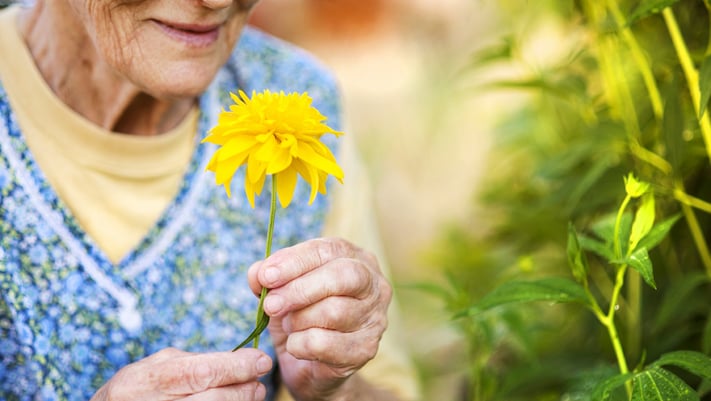 We've all had minor moments of forgetfulness, but for an older adult with dementia, the problems associated with memory loss are far more serious than a fleeting feeling of embarrassment after yet again losing their keys or forgetting why they opened the fridge door. Dementia is a progressive disease and one of the major causes of disability and dependency among seniors. As the disease advances, older adults lose the ability to perform daily activities, such as shopping, cooking, driving or dialing the phone; at later stages, some can no longer dress or feed themselves.
Until 1981, when the first assisted living community opened in response to demand for a less institutionalized senior living option, nursing homes were the only alternative for an older adult who could no longer function at home. Assisted living has since grown in popularity, and many communities now serve the increasing number of seniors with dementia by dedicating entire wings to memory care residents. Some of these communities are entirely devoted to memory care, and some provide a care bridge program for early stage patients, which can make the transition to a memory care residence easier and less stressful.
Structured Environment Provides a Sense of Safety
The benefits of memory care residences are many. They provide a safe and structured environment for people with dementia who need help with the activities of daily living and need the consistency of a regular routine. The staff-to-resident ratio is higher than with regular assisted living communities and staff are especially trained to care for those with cognitive impairment. For instance, they not only know what triggers agitation or anxiety in an Alzheimer's sufferer, but they are trained how to effectively respond to and defuse stressful situations. Memory care staff also make it a point to show compassion and respect to residents, making sure to accept a resident's values and beliefs without confrontation or contradiction.
When it comes to physical design, memory care communities have features that help prevent residents from wandering outside; in some cases, residents have access to the outside through enclosed courtyards. These residences offer comfortable suites as well as many common areas, which encourages socialization and decreases the chance of isolation. In addition, residents receive three meals a day plus housekeeping and laundry service, medication management, personal assistance with bathing, grooming and other tasks, and exercise and physical therapy programs.
Special Programming Provides Mental Stimulation
Many memory care communities offer special programs, including sensory stimulation and cognitive therapies as well as music or art therapies, designed not only to keep residents active and involved but to decrease anxious behaviors that sometimes accompany the disease. As well, memory care communities typically schedule a variety of recreational and leisure activities, ranging from games and trivia to pet appreciation and reminiscing to nature programs. The best memory care communities ensure that residents are engaged with their peers, participating in tailored programming that meets their physical, social, emotional and spiritual needs.
Dining Programs Encourage Eating
Ensuring that all residents are well-nourished is another major focus at memory care communities. As dementia progresses, some residents lose the ability to effectively chew or swallow food, which can lead to malnutrition. In a memory care residence, health care professionals monitor and encourage food intake. Some communities have special dining programs, such as The Arbor Company's award-winning Dining with Dignity® program, which uses ground ingredients in meals, allowing for easier chewing and swallowing. In addition, food is prepared in bite-size offerings, eliminating the need to use forks or spoons. Programs such as this preserve the individual's independence and dignity and allows for more nutritional consumption and decreased weight loss.
By increasing socialization and providing a failure-free dining experience, memory care communities can make a major difference in dementia treatment outcomes, helping seniors with dementia function at the highest possible level for the longest possible time. Most seniors with dementia can thrive at a memory care community, but do keep in mind that those who have complex conditions needing intensive hands-on care and regular monitoring may require the services of a nursing home.
Interested in learning more about senior assisted living or memory care in your area? Contact us now to request more information about our premium senior independent living communities.