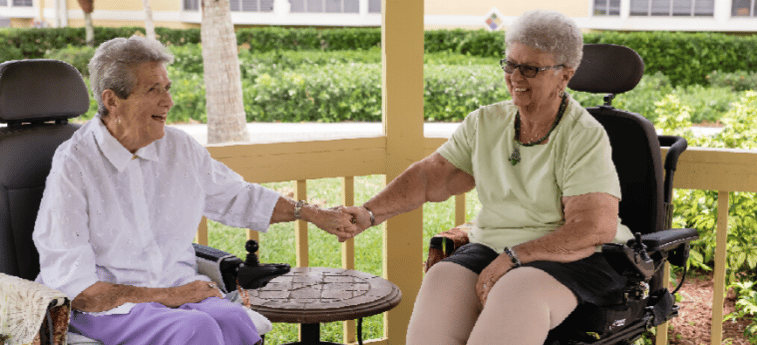 If you are weighing your options for choosing to live at a senior community versus staying home, you may find it helpful to consider certain aspects of each. For most seniors, factors such as cost, food, lifestyle, and friendships are crucial to compare before making a decision about your future living arrangements. To better prepare you for this important decision, here are a few things to consider:
Costs
Most seniors worry about financial issues, and choosing a senior living community can feel like you are draining a good portion of your nest egg. However, senior living communities often end up costing seniors no more, or even less, than living at home. For most senior living communities, your monthly rent covers all major expenses, including utilities, housekeeping, and maintenance. Without worrying about large expenses, such as a new roof or windows that a home may need, or emergency repairs that can add up quickly, senior living communities come with a consistent monthly payment that you can count on.
Finally, if you require some assistance at home, your costs for staying at home can continue to increase. According to AARP, costs associated with families that need to pay for caregiving costs for aging seniors at home are surprisingly high. When you choose to live in an assisted living or memory care community, your caregiving costs are often built into your monthly living expense.
Environment
Falls are an especially important factor to consider when choosing where to live in your retirement. While seniors can certainly fall in a senior living community, the environment is designed to be as safe as possible. With minimal floor transitions and steps, as well as flooring surfaces that reduce slipping, senior living communities are often far safer than traditional homes.
Food Options
When you choose to live at home, you are responsible for cooking for yourself or eating what family members or senior services bring to your door. The lack of choice and the overwhelming chore of preparing three meals per day for yourself can get old quickly. In a senior living community, experienced chefs prepare your meals daily, and there are always options to choose from. Variety is the spice of life!
Amenities
Older adults who live in senior living communities are privy to a lifestyle that includes amenities such as housekeeping services, maintenance services, transportation services, and even medical clinics on site. Some communities even offer support groups, laundry services, and banking opportunities. With all of these amenities located a few steps down the hall, as opposed to a drive across town, it is easy to see why a senior living community can be a wise choice.
Activities
Remaining at home, alone or with a partner, can become lonely and isolating quickly. With an isolated senior mind more prone to cognitive decline, many seniors opt to live in senior living communities simply for the engaging activities offered on site. Senior living communities offer carefully planned activity calendars that feature trips, lectures, programs, and events to suit a variety of preferences and interests. There is no boredom when you live in a senior living community.
Friendships
Finally, loneliness can creep in quickly when living at home. If you are seeking friendly neighbors right down the hall, and the opportunity to develop meaningful connections with your peers, a senior living community can offer all that and more. Seniors are healthier when they have a support network of other older adults, and those encouraging friendships are easier to establish when living in a community.
Whether you are seeking to relinquish some of your home maintenance and chores or are looking for friends to learn and chat with, a senior living community is well worth the investment.