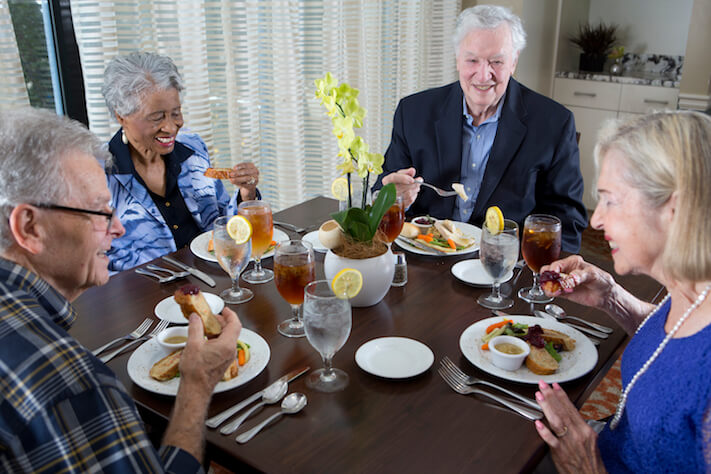 If you look after an aging parent with dementia, the very thought of placing him or her into a memory care community may make you cringe with shame. You may worry that this course of action signifies that you are uncaring or selfish or can't manage the care of a loved one by yourself. If this sounds familiar to you, please stop right now with the self-recrimination, take a deep breath, and recognize that taking care of a person with a cognitive impairment is a hugely demanding position for anyone.
And take heed: If you are struggling to cope right now, the sad fact is that the required care is only going to increase because dementia is a progressive disease that affects a person's memory, judgement and mood and may impact physical ability as well.
A Roiling Maelstrom of Emotions
In addition to feelings of shame, caring for a parent living with dementia can bring up a host of other emotions: fear, confusion, frustration, resentment, depression and guilt are often in the mix. This latter emotion, as this Mayo Clinic blog post points out, "is often fueled by the demands of the role, the expectations of others, as well as the expectations of their toughest critic — themselves."
The truth is you shouldn't feel guilty or ashamed because you want to focus some energy on living your own life and taking care of yourself; indeed, stepping back a bit from caregiving can be crucial if you are feeling anxious, depressed or are in any way emotionally distressed. As well, keep in mind that if your loved one is showing signs of wandering or sundowning, or you otherwise fear for their safety, a memory care community might be a far more secure and appropriate living arrangement than the one you can offer at home.
Benefits of Memory Care Residences
Although some people see a memory care community in a negative light, this might be based on the erroneous belief that memory care equals institution. In reality, memory care residences are far from institutional, and they are often the perfect solution for a senior living with dementia as they provide a safe and structured environment, one in which the building design as well as the programming is geared to seniors living with memory loss or other cognitive impairment.
When it comes to safety and security, these communities have secure exits and entrances that can only be opened with a numerical code, which prevents residents from wandering outside. As well, although memory care residents have their own suites (unlike residents of skilled nursing facilities), the communities are designed to include many common areas, which encourages socialization and decreases the chance of isolation. In addition, a rich schedule of diverse recreational and leisure activities are usually on offer, ensuring that residents engage with their peers and participate in tailored programming that meets all their needs. Memory care programs tend to be routinized with activities scheduled at the optimum time of day (for example, relaxing activities offered in the late afternoon and early evenings, times that people with dementia tend to experience anxiety). Furthermore, many memory care communities offer special programs like sensory stimulation or music therapy, which can also decrease anxiety or agitation.
Along with all that comes staff who are especially trained to care for those with cognitive impairment and know how to effectively respond to and defuse stressful situations. Nutrition is another major focus, with some memory care communities offering special dining programs, such as The Arbor Company's award-winning Dining with Dignity® program, which uses ground ingredients and prepares food in bite-size offerings. (This program effectively deals with two problems that people in late-stage dementia sometimes face, namely, difficulty chewing or swallowing food as well as using utensils such as forks and spoons.)
In the final analysis, a top-notch memory care community can provide a calm and dignified environment that reduces safety risks and distress and enables seniors living with cognitive impairment to actually thrive. On top of this, allowing your loved one to be cared for in a memory care community can give you the space and the support you need to move forward with your own life, which not only benefits you but benefits the other people in your life.