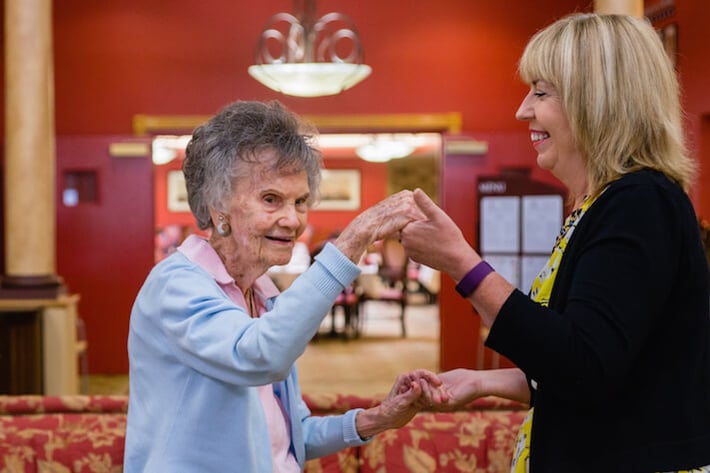 Are you considering moving into an independent senior living community but are on the fence if it is worth it in the long run? After all, you are living independently in your current home and wonder if a move is really worth the hassle. Each independent living community is unique, but in the end, the independent living lifestyle is definitely worth the investment and relocation.
Downsizing Your Home, Downsizing Your Responsibilities
One of the benefits of an independent living community is home and yard maintenance. If you are downsizing from a larger home into an independent living apartment, you are also downsizing your time spent doing chores. Gone are the days of fretting over snow removal or yard maintenance, you no longer need to worry about cleaning a two story home. Instead, your smaller space translates to less time dusting and cleaning and more time pursuing hobbies and traveling.
Socialization at Its Finest
One of the major perks of living in community is the socialization opportunities. Isolation and loneliness have been shown to be detrimental to senior health - physical, emotional and cognitive. If you have found yourself living alone in your home, you are at risk for isolation from your social and support networks. However, independent living communities offer multiple ways to fight the urge to isolate yourself. Even if you do not consider yourself a social butterfly, you will be only steps away from a quick chat with your neighbors or from a lunch conversation with your friends.
There is So Much to Do
Independent living communities are often selling a lifestyle, complete with a full calendar of activities and events to keep your days busy and fulfilling. Beyond structured socialization opportunities like Happy Hours and entertainment, most communities offer exercise groups that range from yoga to walking groups. Some communities offer onsite amenities such as a craft room, a chapel, a woodworking shop or a swimming pool. Other communities offer partnerships with community colleges or online universities. For the more adventurous residents, communities also offer overnight travel clubs for an additional cost. It is safe to say that even if you do not have a favorite hobby or leisure pursuit when you move into a community, you will have many by the time you close out your first year.
Health is a Priority
Independent living communities, while not staffed with 24 hour a day nursing services, still make an effort to keep residents as healthy as possible. Doctors often have on-site offices and hours at independent living communities, and some offer onsite screening events for things like osteoporosis. A full time wellness staff is available to answer questions or connect residents with services, as well as take blood pressures or blood sugar levels. Social workers are readily available to walk you through overwhelming tasks like understanding Medicare or giving residents a nudge in the right direction when it comes to preventative physical or emotional care.
Assistance if Your Health Fails
Most independent living communities are connected with local assisted living or skilled nursing communities in the area, which can be helpful if you end up needing more assistance or a place to recuperate after a planned hospital stay. Advice from the independent living staff can be especially helpful since they have grown to know you, your medical history, and your preferences.
If you are considering independent living but afraid to pull the trigger, wait no longer. Finding a community that matches your preferences and lifestyle can be a wonderful partnership in your retirement years.