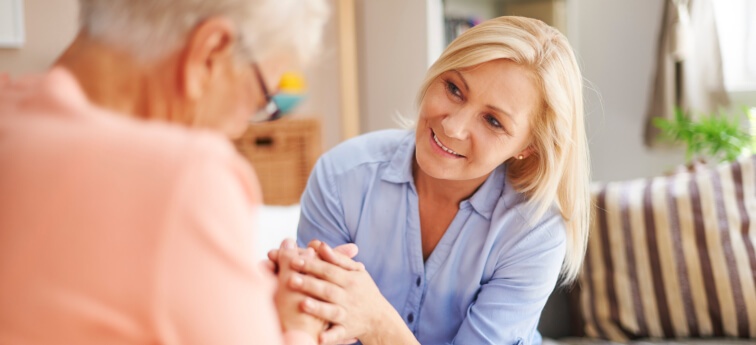 A simple conversation can be life-changing for a person with dementia. Dementia can feel isolating and frightening, but warm conversations remind people with dementia that they matter and they're not alone. Supporting a person with dementia to overcome communication barriers can improve their quality of life. One study even found that just an hour of social interaction a week improves quality of life in seniors with dementia. Conversation can also ease the stress that caregivers and loved ones feel by reminding them that their loved one may be struggling, but they're still in there. So get talking. Here's how:
How Dementia Affects Communication
There are more than 70 types of dementia, each with its own constellation of symptoms. One thing most dementias—including Alzheimer's, the most common dementia—have in common is communication difficulties. Dementia damages the brain, progressively eroding a person's ability to think, plan, make decisions, and follow social norms.
In the early stages of dementia, a person may struggle with remembering recent conversations, repeatedly telling the same story, managing their emotions, and remaining focused on the conversation.
As dementia progresses, attention declines even more. A person with dementia may no longer be able to have a long conversation without help. Eventually, some types of dementia completely eliminate a person's ability to speak. But that doesn't mean your loved one doesn't want to talk. People with dementia still respond emotionally to communication, and may find their loved ones' voices soothing.
Overcoming Discomfort About Talking to People With Dementia
For many caregivers and other loved ones, the most significant barrier to talking to someone with dementia is the apparent chasm between who your loved one is and who they once were. Some people feel uncomfortable talking to people with dementia because they don't know if their loved one is still "in there" or if they understand. Others are uncomfortable in medical settings such as hospitals, and so struggle to support loved ones when they're seeking medical care. And a few struggle with emotions from the past. After all, it can be hard to be supportive to the grandmother who was unkind to you or to the father who abandoned your family.
A few simple tactics can help you manage your emotions so that you're better able to support your loved one:
Remind yourself that you're there to support the person who is here today—not the person with whom you may have emotional baggage from the past.

Seek help with managing your own emotions from a dementia caregivers support group, a therapist, or even an online support network. It's important that feelings such as resentment, anger, or frustration don't come out in your conversation.

Know that your loved one is still a person. They may have fewer abilities, but just like a child who can't express themselves well, your loved one has a deep well of emotions.

Know that conversation matters

. By talking to your loved one, you are improving their life.

Remind yourself that conversation offers you benefits, too. It helps you connect to your loved one, gives you a chance to share what matters to you, and offers meaningful social connection.
How to Talk to a Person With Dementia
No single strategy works for everyone with dementia. Instead, communicating with a person who has dementia requires you to be attentive to their emotions, their needs, and their abilities. If a conversation seems to be upsetting or confusing them, shift the topic or change your tone. Some strategies that may work well in early stages of dementia include:
Allowing your loved one to lead the conversation. They may be unable to focus on long stories and may not remember to ask you questions about yourself.

Asking your loved one questions to get the story going. Encourage them to share tales from their childhood or to bask in their greatest achievements.

Giving your loved one time to think and speak. Some people with dementia have to pause to gather their thoughts, or must retell the same part of the same story several times before they can transition to the next part.

Remaining patient. Schedule a visit for a time when you can fully focus on your loved one. If you find yourself becoming flustered, shift your attention back to the value of the present moment while taking several deep breaths.
As dementia progresses, your loved one may be unable to have normal conversations. They may even be unable to talk. At this point, the burden for sustaining conversation shifts back to you. It's up to you to keep the conversation positive, interesting, and affectionate. Try these tips:
Retell a beloved family story, such as the birth of your loved one's first child.

Read your loved one a short story.

Read your loved one a beloved book.

Ask for distant loved ones to send letters or emails, then read them out loud.

Use visual storytelling cues to make your stories more accessible. A puppet show, photo album, or picture book can work wonders.
Loving someone with dementia is challenging, but dementia doesn't have to be the end of a meaningful, socially connected life. To learn more about dementia and find new ways to connect with your loved one, download our free dementia guide.