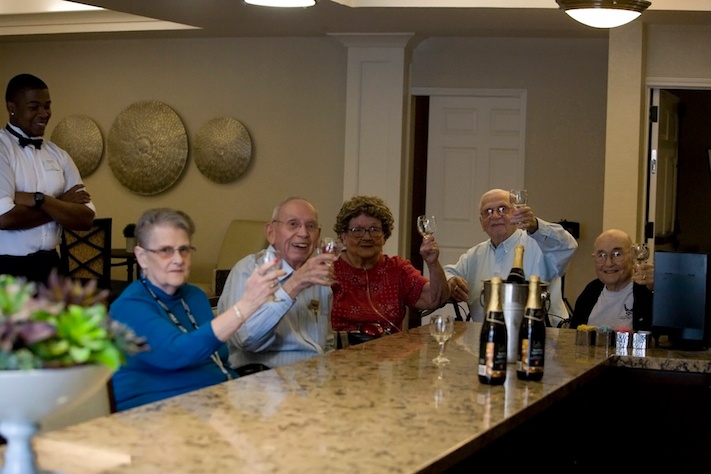 If you're tired of cutting grass or worrying about a leaky roof, you might have toyed with the idea of downsizing and moving into senior living, but the thought of "living with old people" stopped you in your tracks. If that scenario applies to you, you may need a little education about independent living, a type of housing that has turned senior living on its head.

Years ago, housing choices for older adults were pretty limited, but today there is a plethora of options, and one of them, independent senior living, is light years away from old school nursing homes.

Designed exclusively for seniors, independent living communities range from large high-rise apartment complexes in a busy downtown to townhouses or free standing cottages in small towns. In some cases, you can find communities that reflect a specific cultural heritage (e.g., Asian-American or Native American), interests (art) or sexual orientation (LGBT seniors). In addition, there are eco-friendly communities for the environmentally minded while life-long learners might enjoy a community located on a college campus. But whatever the community, rest assured, there will be little to no maintenance or yard work to worry about, giving you plenty of time to pursue other interests.
A Time for Personal Growth
In fact, for many residents of independent senior living, this low-maintenance lifestyle is allowing them to reinvent themselves in their retirement. Between travelling or taking up continuing ed classes, meaningful hobbies or volunteer work, these seniors simply don't have the time to sit around and watch stale reruns!
Although many residents enjoy participating in the greater community, they don't have to go far to learn new skills or engage in purposeful activities. Senior living communities typically offer an abundance of on-site entertainment and recreational activities ranging from movie nights to stained glass workshops to classes on Chinese history. As well, it's easy to run into like-minded people in the many common areas typically offered on-site (think clubhouses, libraries, computer rooms or business centers). The opportunity for companionship and sense of community may be particularly appealing to recent widows or widowers, who have found living alone in a big house rather isolating.
As well, there's often social outings to such places as museums, galleries or parks. Of you can always go off on your own adventures, but if you don't feel like driving at night, you can book the community's private bus or taxi service so that you can catch dinner and a play without worrying about traffic.
Health and Wellness
Since the majority of independent living residents are quite health-savvy, many communities feature enhanced health and wellness and fitness options. Some provide on-site wellness nurses, while others feature state-of-the-art swimming pools and fitness centers, complete with individualized fitness assessments and programs. As well, if you enjoy revitalizing walks it's not hard to come across communities with scenic walking paths. If golfing or tennis is more your thing, look for a community with a putting green or tennis court.
Delicious Food
Many older adults value a great culinary experience, and if you are one of them, a senior independent living community might work well. The fare at these places is becoming increasingly sophisticated with gourmet chefs often running the kitchens, using fresh, local and seasonal ingredients when they whip up their scrumptious creations. As well, dinner is often presented with full table service and special dietary needs are always accommodated. More ever, you can usually enjoy food and drink at on-site bistros, bars and cafes as well as in the dining hall. Finally, if you still love to cook, you can continue to make your own meals or buy custom-designed meal packages.
So, now that you're clear about what an independent senior living community really means, is there anything that's stopping you from packing?