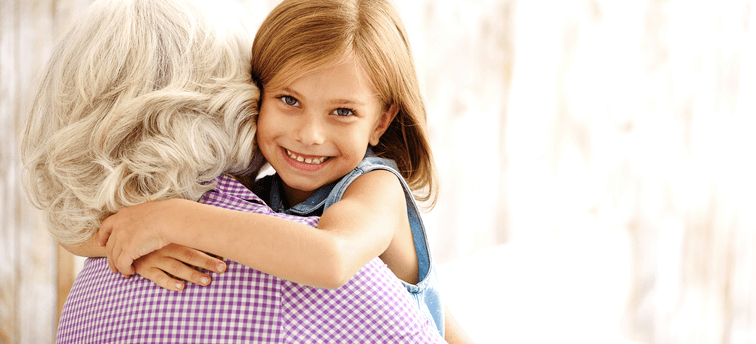 It's heartbreaking when dementia interferes with a grandparent's relationship with their grandchildren. Children may feel fearful of grandparents who have had dementia for most of the child's life. Conversely, children who once had warm relationships with their grandparents may feel angry and sad. Some might not even believe that their grandparent can't help their behavior.
Helping children understand dementia first requires that parents gain control over their own emotions. Make sure you have a keen understanding of how dementia affects the senior in your life. Work through your own feelings with the help of loved ones or a therapist. Children take cues from their parents, so you must be prepared to model the behavior and attitude you want to see. When you're ready, here's how to begin the process of explaining dementia.
Prepare for Common Reactions
Children feel the same deep and complex range of emotions that adults do. They may struggle, however, to express their feelings. Don't be surprised if your child seems unconcerned. Rather than crying or having a meaningful discussion, your child may begin acting out. More tantrums, regression in potty training, and disruptive behaviors are common, particularly among small children.
Older children may react with anger and feel frustrated that they—or you—can't fix things. They might even blame their grandparent. Rather than penalizing these emotions, help your child talk through them. Lots of loving conversations can help; a school counselor or therapist can, as well. Teach your child that whatever they feel is okay, and that giving voice to those feelings can make them easier to manage.
Teenagers are often more adept at understanding things. This doesn't mean they manage their emotions well. Like little kids, teens may act out by skipping school or using drugs or alcohol. Be prepared to support your teen and help them find healthy ways to manage their feelings.
You may notice that your child's feelings seem to shift. Sometimes, the reason for this shift is clear—for example, a change in a grandparent's abilities. Sometimes, the shift seems to come out of nowhere. It's normal for kids and adults to cycle in and out of many emotions—anger, sadness, fear, frustration, even depression.
Explain Things in Age-Appropriate Language
Children, even very young children, deserve an explanation for their grandparent's difficulties. Explain things in clear, specific, age-appropriate language. Some themes to highlight include:
Grandma or Grandpa is sick, and that makes it hard for them to think.
Dementia will probably get worse, and it definitely won't get better.
It's not anyone's fault. It's just a terrible thing that happens.
Explaining dementia provides a chance to build upon what your child is learning at school. Preschool and school-aged children may be learning about the brain and other organs. Explain that dementia affects the brain, making it hard for grandparents to think the way the rest of us do. Older kids and teenagers may prefer more scientific explanations. Consider giving them books about the brain and mind or encouraging them to read websites about dementia.
Concrete activities can help your child understand what's happening in a beloved elder's brain. Try showing your child a weed-filled area of your garden. Help them notice that, the more weeds grow, the more difficult it is for other plants to grow. Those weeds are like the plaque in Grandma or Grandpa's brain. The more they grow, the harder it is for thoughts to blossom.
Another strategy is to gather some scarves. Stretch the scarves across the floor, and then tell your child they must roll a ball across the floor. The ball can't touch the scarves. Explain that the scarves are like the tangles in a grandparent's brain. More and more grow over time. Just like it becomes harder to roll the ball, it becomes harder for thoughts to travel, making it more difficult for a grandparent with dementia to think or communicate.
Use Helpful Books
At the Arbor Company, we're a proud sponsor of The Ally Bally Bee Project, an organization that creates customized books to help children better understand dementia. These stories help children think about dementia in a way that's compassionate and destigmatizing.
Some other books that may help kids understand include:
Help Your Child Remember the Good Times
We all tend to forget the past. The present becomes normal, and it's easy to forget that things were once much different. Help your child remember the good times by talking frequently about them. "Remember when Grandma…" and "What's your best memory of Grandpa?" should become regular elements of your family discussions.
You can help your child and the senior you love bond by creating a memory book. Encourage your child and the elder in their life to look at family photos together. If it's relatively early in the disease, have a grandparent record a story for your child. Listening to the recording will remind your child of how their grandparent used to be.
Support Your Child in Building a New Relationship
Children can be remarkably compassionate, but they may struggle to find healthy ways to show that compassion. Don't expect your child to be a caretaker or to be perfectly understanding of a senior's dementia. Instead, help your child develop new ways to have a good relationship. Try some of the following:
Keep get-togethers brief until your child feels more comfortable. Long, painful visits can backfire.
Brainstorm with your child about questions to ask, activities to do together, and topics to discuss. Children sometimes need ideas about how to relate to others.
Try involving your child and senior in an activity that doesn't require much thinking or communication. Painting, simple sports like kickball, and watching the sunset can give the pair quality, low-stress time together.
Ask your child what upsets them the most about their grandparent's dementia. You might be surprised by the answer. Perhaps it's worries about the grandparent's safety or fears because the grandparent quickly becomes angry. Work to mitigate these fears and provide a supportive, fun environment for each visit.
Don't Push Your Child
Dementia may confuse and frustrate seniors, but it doesn't end their desire for human connection. Most people with dementia still deeply love their grandchildren—even if they no longer recognize them. If your loved one with dementia wants a hug or kiss from your child, it's tempting to force your child to comply. If you're feeling overwhelmed and sad, you might even punish your child for less than ideal behavior.
Pushing the relationship can backfire. Allow your child to move at their own pace—even if they don't want to give Grandma or Grandpa a hug or kiss. It may take time, but with a little support, your child will find new ways to have a healthy relationship with a beloved grandparent.