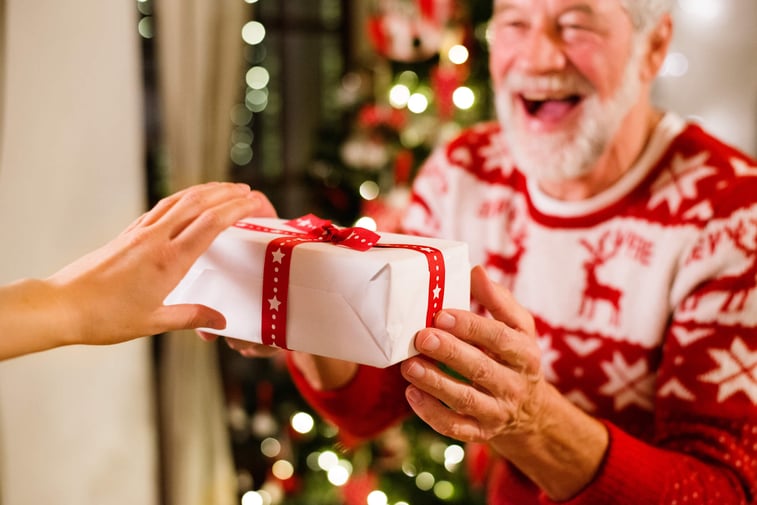 Gifts for seniors present a unique challenge. Many seniors already have the things they want or need. Those who have lived in the same home for years may be concerned about clutter, and seniors who have transitioned to senior living may relish their tidy new minimalist existence.
Everyone wants seniors to enjoy the holidays, but the right gift can be a challenge. So what's a doting family member to do? Here are our picks for the best gifts for seniors, both during the holidays and year-round.


Tech Gadgets
A popular myth suggests that seniors are uninterested in or frustrated by new technology. The research suggests otherwise. Seventy percent of seniors are now online, and the majority of them believe that technological advances have positively impacted society. The right technology can make a big difference in your senior loved one's life. Try one of the following:
Sign your senior loved one up for a technology class at the local community college so that they can master digital devices and safely use social media.


Invest in a tablet and preload it with a membership for Amazon Prime, Hulu, or HBO so that your loved one can enjoy TV and movies whenever they want.


Upgrade your loved one's phone to something they can more easily use. If they love smartphones, then get them the latest and greatest one. But if they're struggling, consider a simpler, more senior-friendly phone. If a pricey phone is not in the budget, try helping your loved one install useful apps and clear the junk from the phone they have. A local phone repair shop may be able to help.


Time
There's a present for every budget, and you don't have to throw down a hunk of cash to give a gift that matters. For many seniors, the best gift is the gift of time. Schedule a family get-together so that your loved one doesn't have to do the work of planning and meal preparation. Set up a weekly or monthly lunch date. Or better yet, use your time to improve a loved one's life. Help them declutter, clean out the closet, or get the garden under control.


Family Keepsakes
Many seniors value their family above any asset or present. So find a way to honor a loved one's family commitments with a keepsake gift. Here are some surefire bets:
Try digitizing family photos so that they never get lost.


Make a family album or scrapbook that highlights everyone's most significant events and achievements over the past year.


Invest in photo gifts, such as mugs or photo blankets.


Ask your child to write a letter to each grandparent explaining how they have touched the child's life.


Pay for a professional photo of the entire family together during the holidays.


Help Planning for the Future
Aging offers a chance to learn more and give back. It can also be frightening, especially in the face of uncertainty. One recent study found that 59 percent of seniors are anxious about changes to their healthcare, and 70 percent worry about the future of Medicare and Medicaid. Although solving senior living and health dilemmas might not feature prominently in holiday movies, assisting seniors with their plans for the future can give them immense peace of mind.
Try gifting your loved one with a consultation with an eldercare or estate planning attorney. Or spend some time with them by talking about their wishes for their future. Then, memorialize these wishes in an advance directive and ensure that your loved one appoints a power of attorney in the event that they should ever need one.


Experiences
Many seniors prefer experiences to things. After all, you may not remember the trinket you got last year, but you'll almost certainly remember important family events. Some excellent experiences for seniors include:
Concert tickets to see a favorite singer or band


Tickets to a holiday performance of The Nutcracker or Handel's Messiah


A membership or pass to your local symphony or art gallery


A gift certificate to a class that will help the senior master new skills or sharpen old talents


A family vacation


A special outing or trip with the grandkids
Ultimately, the best gift signals your love for the senior in your life, and you don't need money to put that love on full display. Form new traditions, and consider the memories you and your senior will look back on in a year, 10 years, and beyond.