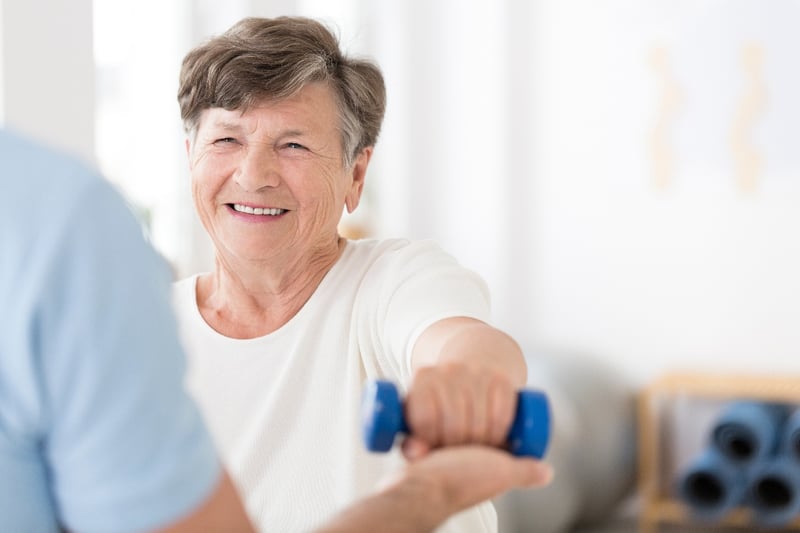 The benefits of exercise are virtually infinite. Working out helps you live longer, reduces symptoms of depression and anxiety, and may even counteract genetic risk factors for various diseases. Promising research suggests that people with a gene linked to Alzheimer's can counteract the gene by exercising. But finding the motivation to exercise can be tough, especially if you struggle with pain, mobility, or low energy. A few simple strategies can transform exercise from something you dread into something you might actually enjoy.
Get Social
For more motivation, try working out with a friend. Meet your neighbor for a quick walk around the block, or schedule a swimming date with your grandchild. If you don't have a local exercise partner, consider joining a senior fitness class. Senior yoga and water aerobics are both ideal options for beginners.
Do Something You Like
There's no rule that says you have to give exercise your full attention. Instead, try pairing exercise with something you like. Work out while watching your favorite show or listening to a podcast. This helps your brain associate exercise with pleasure, which may help you stay motivated to keep at it.
Remind Yourself of Your Motivation
Most people get a rush of the brain chemical dopamine after a workout. Dopamine is linked to reward and motivation. It makes you feel good and can keep you exercising. But for about 25 percent of people, according to one study, certain genes interfere with dopamine release during exercise. This can make it more difficult to get motivated, because you don't get a rush of joy and energy after working out.
If you don't feel motivated, you need to create your own motivation. Try making a list of all the reasons you want to exercise, then displaying it somewhere prominent. As you work out, don't think about how tired or annoyed you feel. Instead, visualize exercise changing your body as it strengthens your heart, tones your muscles, and supports your brain.
Start Small
It's easy to feel overwhelmed by exercising. Don't let that deter you. You don't need to give up an hour of your day, invest in fancy equipment, or even break a sweat at first. Any exercise is better than no exercise at all. So commit to just 5-10 minutes a day to start. Even if you hate exercise, you can do it for a few minutes. One recent study found that women who went from not exercising at all to working out just 10 minutes a day saw quick and significant improvements in their health. As you build fitness and confidence, you may even find yourself motivated to work out longer and harder.
Do Something Fun and Active
Exercise doesn't have to involve dull, repetitive motions. Instead, try doing something active that's also fun. Some ideal options for seniors include:
Power walking through a shopping mall. This is a great option for seniors who love window shopping.

Taking your dog for a walk.

Playing catch with a grandchild.

Gardening.

Dancing. Consider joining a senior dance class or club.
Make Exercise a Habit
Much of how we spend our time is habitual. When exercise becomes a habit, it becomes almost automatic—like brushing your teeth or drinking your morning coffee. The only way to form a habit is to keep doing something. So start slowly, doing exercise you can tolerate on a regular, near-daily basis. On average, it takes about two months to form a habit. So commit to a few months of exercise and just do it.
Staying active is a key ingredient to a healthy, happy retirement. To learn more about making your retirement the best it can be, check out our Retirement Guide.