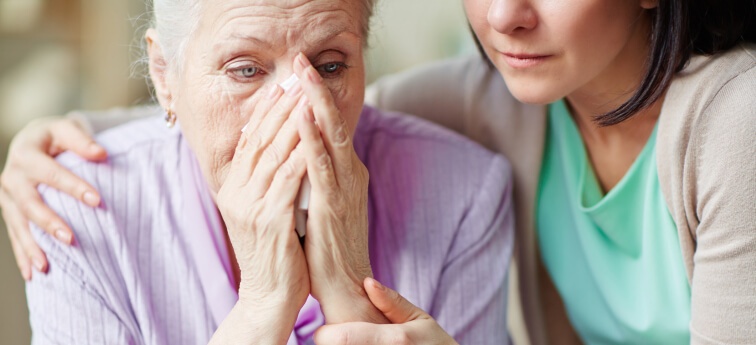 A popular myth suggests that depression is a normal part of aging. This is untrue. Depression is a serious illness, much like diabetes or heart disease. It's not a normal part of aging, and with the right support, seniors can lead engaging, joyful, meaningful lives. Yet depression is common in seniors. An estimated 1-5 percent of the general senior population is affected by depression. In seniors with health conditions, the figure is much higher. As many as 13.5 percent of seniors requiring home health assistance and 11.5 percent of hospitalized seniors are depressed.
This suggests a clear connection between depression and physical health. The right support from loved ones and a few lifestyle changes may help.
Depression in Seniors: A Health Risk Factor
Depression feels awful, and this is reason enough to intervene if a senior you love seems depressed. Depression can also cause a senior's health to decline more quickly. Research increasingly suggests that depression in seniors is a risk factor for Alzheimer's and vascular dementia. In some seniors, depression may even mimic symptoms of dementia. Some other potential health effects of depression include:
Headaches

Chronic fatigue

Aches and pains

Difficulty sleeping at night

Appetite changes
Symptoms and Warning Signs
Some seniors have struggled with depression their entire lives. For others, depression is a new experience, related to the challenges of growing older or living with chronic illnesses. In some cases, depression may even be a complication of another disorder. For example, cardiovascular health problems can cause restricted blood flow to the brain, changing a person's mood and causing depression.
Some warning signs to watch for include:
Changes in mood or personality. A once-vibrant and happy senior might seem angry, hostile, sad, or apathetic.

Lack of interest in once-beloved people or activities.

Giving things away. This may mean the senior is contemplating suicide.

Talk of suicide. You should always take threats of suicide seriously. Call the National Suicide Prevention Lifeline at 1-800-273-8255 if you believe a senior you love is suicidal.

Unexplained aches and pains, or worsening health that is not due to a medical condition.

Crying and hopelessness.
Five Ways to Help the Depressed Senior in Your Life
Depression is a medical condition that requires medical treatment. Seniors with depression can thrive with the right combination of therapy, medication, and lifestyle changes. You can't cure your loved one of depression, and they can't think their way out of it. You can, however, do things that support your loved one to get better. Try the following strategies:
Help your loved one become more physically active. Exercise improves blood flow and may help people with vascular dementia.

Research also shows

that being active can be a highly effective treatment for depression in seniors. Make exercise fun. Go for a walk every day, or help your loved one sign up for a water aerobics class.

Urge your loved one to seek treatment. Depression is not their fault. Help them understand that depression is a medical condition that can go away with treatment. Depressed people may feel overwhelmed and unmotivated. Make it easy to seek treatment by finding a therapist covered by your loved one's insurance and offering to go with them to a meeting with a psychiatrist or other mental health expert.

Support your loved one to live the life they want. For many seniors, the limitations of old age are difficult. Find ways to get around these limitations. If your once-active mother can no longer drive, help her sign up for Uber or start a family carpool program. If mobility impairments make it difficult for your dad to tend to his garden, try helping him build a more manageable indoor garden made of succulents or orchids.

Listen to your loved one without judgment. The feelings depressed people express can be scary. But these feelings are very real to your loved one and deserve validation. Acting as an outlet without giving advice, judging, or shaming can help your loved one feel heard and understood.

Make it easy for your loved one to see friends and family. Depression is exhausting, and calling a friend and making plans can feel impossible. Yet spending time with loved ones can help seniors with depression feel less isolated. So consider setting up a family night, helping your loved one plan a recurring date with a close friend, or simply dropping by more often to check in on them. By giving your loved one more people and activities to enjoy, you also give them an incentive to seek treatment.
For some seniors, living alone and trying to manage chronic medical conditions is deeply depressing. Getting support in assisted living can help. Assisted living offers socialization, support, plenty of friends, and lots of activities. For more information about making the transition, check out our free guide, The Complete Guide to Assisted Living.