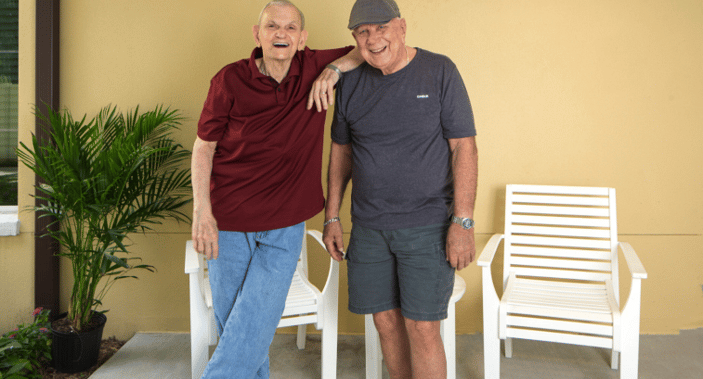 As Father's Day approaches, you may find yourself struggling to connect with your aging dad or find a gift that makes him realize how special he is. Aging males can be notoriously difficult to shop for, but by shifting your thoughts to experiences, you can plan a day that puts a smile on your dad's face for weeks to come. Here are a few of our favorite ideas that can get your planning process started on the right foot.
Fun Family Activities
Father's Day is the perfect excuse to bring the whole family together for memory making and experience sharing. If your family is celebrating with many generations, be sure to choose an activity that will be meaningful and fun for all ages. Try something simple like a picnic at a favorite park, packing favorite foods that everyone will enjoy. Add a bag of bubbles and sidewalk chalk for the younger crowd and a few fishing poles for the older participants. Bring along a camera to capture the candid moments, and enjoy the simple time together.
If you are looking to up the ante a bit for your family fun day, consider renting a luxury set of wheels. Many local car dealerships or rental companies will rent out luxury or vintage vehicles with a few weeks' notice. If your dad is a car lover, renting a vintage Mustang to ride around the neighborhood in could be an extra-special way to celebrate the day. If renting a vehicle is not realistic for your situation, search for a local car show to attend as a family. All ages typically love these family-friendly events.
Easy Events
Speaking of events, you may not be able to plan anything too extravagant for your father because of complex medical, cognitive, or physical issues. In these cases, focus on a shared activity that you can bring to him, no matter where that may be.
If your dad lives in a senior living community, chances are high that the team there is planning a family-friendly Father's Day event. This is a wonderful time to attend, getting to know the staff and your dad's neighbors! If your dad isn't able to attend a Father's Day event nearby, consider bringing his favorite food over to his home to enjoy together. Pack along a favorite magazine or book to read together, or work on planting a few vegetables in a raised garden bed together.
Gift Guide
Finally, if you are searching for a gift to send to your dad from afar or to wrap up and take to him in person, consider a few of our suggestions.
Subscription Service




These days, you can find a monthly subscription service for any taste or hobby. Your dad will love getting a monthly gift in the mail well beyond Father's Day, and you'll love knowing that he is getting something to keep him occupied each month. Try a food subscription service like a Cheese of the Month Club or a hobby-based service like a Fishing Lure of the Month Club.

Favorite Restaurant Gift Certificates




Does your dad love going to a local diner for breakfast with friends every week? Or perhaps he has a favorite sweet treat that he buys from a nearby bakery. In any case, a few gift certificates for his favorite joints can not only contribute to his socialization, but also to his nutrition.

New Shoes




New shoes can positively affect your dad's physical health and safety, especially if he hasn't replaced his old ones in a few years. Invest in a pair of shoes that match your dad's activity level and medical needs, treating him to something he may otherwise see as an optional luxury.

The Chance to Tell His Story




For a dad who has stories he wants to tell and pass on, consider hiring a local writer to interview your dad and ghostwrite his life story. This gift is not only priceless to the rest of the family, it is a wonderful way to build socialization into your dad's day for the next few months.
Three cheers for dads! Let us celebrate them with events and opportunities this month, and all year long.