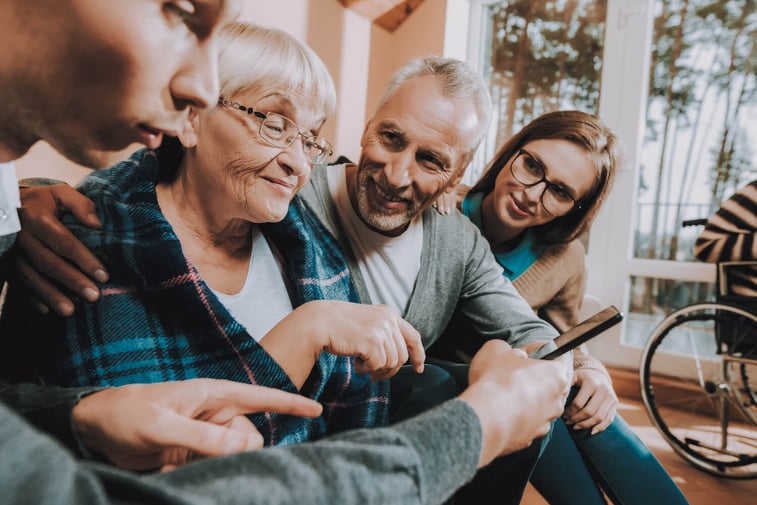 According to the Alzheimer's Association, 5.8 million Americans currently live with Alzheimer's disease. That number is expected to nearly triple to 14 million by 2050, which means that the majority of us will find ourselves in some type of caregiving role for an aging family member or loved one at least once by then.
The numbers of those living with Alzheimer's disease are staggering, and the healthcare community recognizes it as a crisis. Unfortunately, there is currently no cure for this progressive cognitive condition, and caregiving can take a serious toll on family members.


The Reality of Caregiving
The Family Caregiver Alliance estimates that 44 million Americans provide some type of assistance to older family members or community members who are living with disabilities. These caregivers are often unprepared for the role, and can suffer emotionally and physically as a result.
Caregivers are more likely to experience insomnia or other sleep disturbances than their peers, as well as an increased risk of depression or anxiety. Furthermore, caregivers often suffer from a compromised immune system and can become ill more easily than their peers. Add in a higher risk for heart disease, obesity, and other stress-related conditions, and it is no wonder family caregivers are downright exhausted.
Fortunately, there are resources and support systems available. If you are a caregiver, try incorporating some of our ideas into your regular routine so that you can stay as healthy as possible as you care for your loved one who is living with Alzheimer's disease.


Share the Load
Caring for someone living with Alzheimer's disease is exhausting, whether you're performing daily tasks at your loved one's home, or coordinating care from miles away. In any case, you cannot do it alone, even if you feel like you may have to.
Begin by talking candidly to other members of your family. Without placing blame or bringing up situations in which you felt that they had been less than helpful, talk specifically about what you need help with now. For example, tell your brother that you need help taking Mom grocery shopping on the second Sunday of each month. These specific instructions are easier to process than a general, "No one ever helps me take Mom grocery shopping."
You can also share the load with professional and volunteer organizations. For example, coordinating Meals on Wheels deliveries for your loved one can ensure that they receive nutritious meals (and friendly visits) throughout the week. Call your city's senior transportation service to see if they can assist with getting your loved one to and from appointments that you cannot attend.


Find Your Peers
No one quite understands the ins and outs of caring for someone who is living with Alzheimer's disease except other caregivers. A support group can provide you with a network of support, access to resources, and peers who can encourage you through this time. Call your local hospital to find a caregiver support group, or your local chapter of the Alzheimer's Association for a dementia-specific support group.


Get Respite
You can't take care of anyone if you're not taking care of yourself first. Ask family members and friends to sit with your loved one while you go to your annual doctor checkup, dentist appointment, or down to the coffee shop for a few hours of peace and quiet. This break from your caregiving duties is called respite, and you need it in order to prevent illness and burnout.


Call in the Professionals
Adults living with Alzheimer's disease can be unsafe and understimulated while living at home alone or with family members. Fortunately, senior living communities offer dementia-specific neighborhoods that feature programming designed just for those living with memory loss.
Residents living in exceptional dementia care communities enjoy nutritious meals and engaging programming, along with caregivers who care for their overall wellness and health. These communities focus on the resident and each individual preference, while also encouraging family involvement.
Caring for someone living with Alzheimer's disease is hard, and you may feel too tired to look for resources that could help you in the long run. We have compiled our tips, tricks, and support resources into one comprehensive document: The Caregiver's Complete Guide to Alzheimer's and Dementia Care.
Download it today to arm yourself with the information you need to advocate for your loved one.