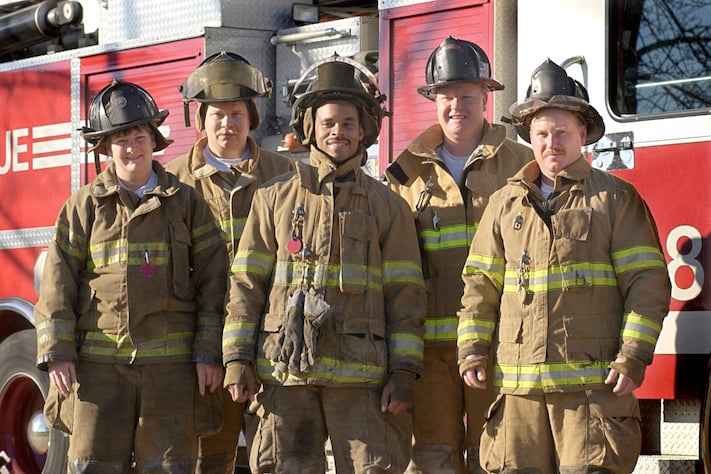 When an emergency strikes, the situation can quickly become complicated if a person with dementia is affected. In unfamiliar or stressful situations, people with Alzheimer's or other forms of dementia often become confused, agitated or aggressive. First responders on the scene could easily mistake the behavior for uncooperativeness, when it's actually caused by the disease.
To help prepare, Arbor Terrace of Asheville recently provided training for 250 firefighters in the Asheville, N.C., area. The training included education sessions to learn the community's unique approach techniques used in interacting with those with dementia and the Virtual Dementia Tour® (VDT), which simulates the experiences of seniors with dementia.
"The VDT really gave the first responders a sense of what it's like to walk a mile in the shoes of someone who is living with dementia or Alzheimer's," said Rebecca Smith, regional vice president sales & marketing for the Arbor Company. "It's a way to help them understand how and why people with dementia might react in an emergency."
Participants don goggles, which reduce the vision, and headphones, which simulate the perception of multi-sensory bombardment. Each participant is led into a dim room and given a handful of simple tasks to complete, such as folding towels or drawing a picture.
"It was huge for me. I couldn't hear the instructions, I couldn't see very well," Asheville Fire Department Captain Mike Quinones said. "I found myself just wandering in a circle looking for socks and a necktie."
Asheville Fire Department officials noted the importance of dementia training, given that Asheville is a popular destination for retirees. Firefighters are called on to respond to Silver Alerts, triggered when an elderly person with impaired cognitive ability is reported as missing. Firefighters also often respond to emergencies in homes or retirement facilities where a person with dementia may require assistance.
Quinones said the course offered lessons that will equip him to interact more effectively with people with dementia in the field.
"I think I'll speak more slowly, I think I'll center myself in front of them, I think will make sure that my words are formed carefully -— I'll use non-verbal communication, pointing and hand gestures," he said.
The training program was featured on WLOS-TV News 13, the ABC affiliate in Asheville.
"The Asheville team did a great job of organizing the training and putting 250 folks through the program in three days," said Rebecca Smith. "We were pleased to provide this training as a service to the community of Asheville, and hope to offer it in other communities as well."