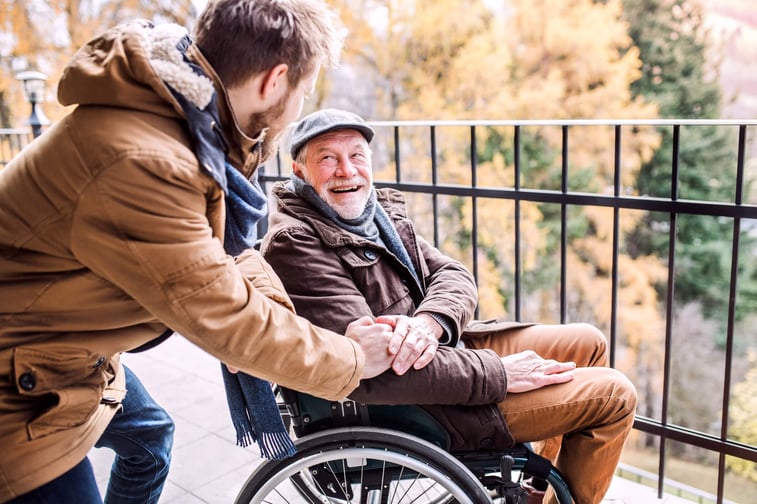 Caring for a senior loved one can offer you the chance to learn from, nurture a closer relationship with, and give back to someone who has loved you their entire life. But caregiving can also be thankless, exhausting, demoralizing work.
Forty to 70 percent of caregivers show symptoms of depression, and between one-quarter and one half of caregivers meet the diagnostic criteria for depression. Caregiver depression is more than just sadness. It is an overwhelming experience that can affect mental and physical health, while rendering the daily challenges of caregiving nearly impossible to manage.
The holidays are an especially difficult time for many caregivers. They may face more demands from family members, feel pressure to keep up with long-standing traditions, or worry about letting down friends and loved ones. Because families often come together during the holiday season, family meals are an ideal time to look for signs of depression in a family caregiver. Here's what you need to know.


Risk Factors for Caregiver Depression
Any caregiver can experience depression, but some face a heightened risk. Risk factors for caregiver depression include:
A lack of positive reinforcement, if not constant family criticism of their decisions


Feelings of isolation or loneliness


A sense of little control over their life, such as the feeling that caregiving prevents them from having any personal time


A fear of inadequacy, especially if they feel that they are not making a meaningful difference in the senior's life


Loss of social relationships, such as family feuds resulting from caregiving-related disagreements
Loved ones should be mindful of these stressors and closely monitor caregivers who show signs of such risk factors.


Warning Signs of Caregiver Depression
Some warning signs of caregiver depression include:
Expressions of hopelessness, worthlessness, or burnout


Withdrawal from family, friends, or previously beloved activities


Frequent proclamations of sadness


Signs that the caregiver is neglecting themselves or their responsibilities; for example, the caregiver may not return phone calls or may appear disheveled


Changes in sleeping or eating habits


Trouble concentrating or making decisions


Mood changes, such as increases in angry, snappy, or weepy behavior


Physical symptoms such as headaches or stomachaches


Feelings of guilt or worthlessness


How to Help
The first step toward helping someone with caregiver depression is to address their immediate needs. Can you fill in and perform some of their caregiving duties for them? What about helping them with their own lives, such as by watching their kids so that they can take a nap or grab a quick date night with their spouse?
These strategies may relieve the acute burden, but they will not cure depression. Instead, your loved one needs mental health support that may include a combination of therapy and medication. People with depression often feel so hopeless that they can't make doctor's appointments or reach out to a therapist.
In some cases, their hopelessness may trick them into believing that their depression cannot be treated, or even that they do not deserve treatment. So be prepared to listen without judgment while urging them to seek treatment. Do whatever you can to make the process easier, including offering to go with them to therapy.
Caregiver depression is an important warning sign that something about a family's current caregiving arrangement is not working. It's a serious call for help that can signal distress in both the senior and their caregiver. So work together as a family to make caregiving easier and less stressful, while ensuring that your senior loved one's needs are met. For many families, the right senior living community helps both seniors and their caregivers lead better, more rewarding lives.