As reported in The Lake Houston Observer: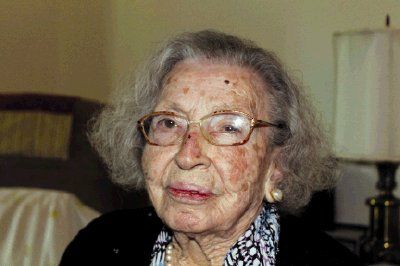 Annette Robnett celebrated her 101st birthday July 21 at Arbor Terrace at Kingwood Town Center.
Born and raised in Memphis, Tennessee, Annette was — and is — a true Southern belle. She attended business college and began her career as a law secretary at a Memphis law firm, earning $25 a week.
Her shorthand skills helped her get to work on some exciting cases. One of those cases was for a member of the infamous Machine Gun Kelly's gang. Annette later worked for the Federal Maritime Commission in Washington, D.C. At 21, she married her husband Fred and soon became a mother to two children. Robnett has four grandchildren and four great grandchildren who reside in Kingwood, Tomball and New Hampshire.
Annette is also a poet and published a collection of poems entitled Autumn Leaves in 1979. (She gave permission to reprint.)
Second Chance

Would I do the same thing again?

If another chance was mine?

I don't regret what I did then –

But views change so with time!

Experience makes us see things

In entirely different light;

Perhaps now I'd make

some change –

But I wonder if I might?

Would I change my life drastically

If a second chance was mine?

The choices made romantically –

Or careers – hard to define

I think I'd still choose

The same way

With the wisdom of

"hindsight' …

And be just like I am today –

But I wonder if I might?

"It's been a good life," said Robnett. "I have absolutely no regrets."