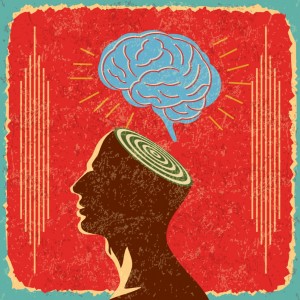 As the American population ages, more families will have to deal with conditions such as dementia, a deterioration in mental function, which affects an estimated 35.6 million people worldwide. Many people think dementia automatically means a diagnosis of Alzheimer's disease, but Alzheimer's is only one type of dementia that is commonly seen in older people. Although dementia affects many individuals in the over-65 population, it is not a normal part of aging, and it can often be treated.
Alzheimer's Disease
Alzheimer's disease is the most common form of dementia, accounting for around 60 to 80 percent of cases. Alzheimer's is ultimately fatal, but new medications can help to reduce symptoms in the early stages of the disease. A number of medical conditions increase the risk for Alzheimer's disease, including Type 2 diabetes, stroke, heart disease, obesity, sleep apnea and high blood pressure. Certain behavioral habits can also increase your risk, including smoking and lack of exercise.
Vascular Dementia
Some conditions affect the flow of blood through the vascular system in the brain, causing another type of dementia. This type of dementia is most often caused by stroke, but it can also occur as a result of long-term narrowing or damage to blood vessels in the brain. High cholesterol, high blood pressure, atrial fibrillation, diabetes or obesity can all increase the risk for vascular dementia. Medical management of these conditions can help to reduce the risk of dementia.
Dementia Caused By Other Diseases
Dementia can also be a result of other diseases, such as Parkinson's disease, Huntington's disease, multiple sclerosis or Creutzfeldt-Jakobs disease. Some evidence indicates that individuals with depression have an increased risk for dementia. Treatment for these underlying conditions can help to reduce the incidence or severity of dementia symptoms.
Dementia Caused By Injury
Symptoms of dementia can also occur after a severe injury to the brain. Even after the physical damage to the brain is treated, injury to the blood supply and neural connections can continue to malfunction. In some cases, dementia symptoms can decrease over time, but in other cases, the damage may be permanent.
Dementia From Other Causes
In some cases, medications that the senior is taking or vitamin deficiencies from a poor diet can contribute to the onset of dementia. When the medication is changed or adjusted, the dementia improves. Similarly, when vitamin supplements or a more nutritious diet is provided, dementia symptoms will disappear. These cases must be carefully evaluated to find the true source of the dementia.
Not all cases of dementia are alike. Diagnosing and treating this condition requires thorough medical evaluation and may involve a variety of different treatments.
(Image via.)