When it comes to Valentine's Day, most parties, activities and events are marketed toward children and young adults, but that doesn't mean that seniors can't enjoy the day just as much. Use these ideas to celebrate the day of love with the elders you love the most!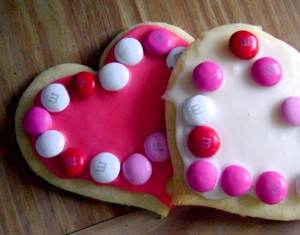 Valentine's Day Gifts for Seniors
Seniors living off of VA benefits and fixed incomes have limited funds for frivolous purchases. You can brighten the day of most any senior by giving them a valentine gift.
If food is off the menu, your loved one might appreciate a fun paper valentine, just like they received in their school days. Bring plenty of extras so your loved one can pass the extras along to friends.
A new, festive piece of clothing also makes an excellent valentine's gift for seniors.
Valentine Activities for Kids and Seniors
While any time of year is a delight for seniors in assisted living to see the young faces of loved ones, Valentine's Day is the perfect time to take the little ones to visit their relatives.
However, children can quickly get bored during a nursing home visit. Keep kids occupied and create precious memories at the same time by allowing children to do an activity with their favorite elder. Find something that will keep the child engaged and interacting with their grandma or grandpa, to make the visit better for everyone.
For memories that will last beyond the visit, bring supplies for children to decorate a picture frame. Take a picture of the child/children and the senior and place it in the frame once completed.
Purchase a plain wood picture frame and acrylic paints at any craft store. Instruct children to dip their fingers in the paint and cover the picture frame in fingerprints. Your loved ones in senior living will be sure to treasure this gift forever.
Assisted Living Approved Valentine Activities for Seniors
Seniors who live in assisted living communities often long for the past. Bring the past to life with a Valentine's Day themed activity. Play love songs from your family member's past, dance together and don't forget to bring heart-shaped treats!
Before bringing any food items to the nursing home, clear it with the community's staff in case of dietary restrictions.