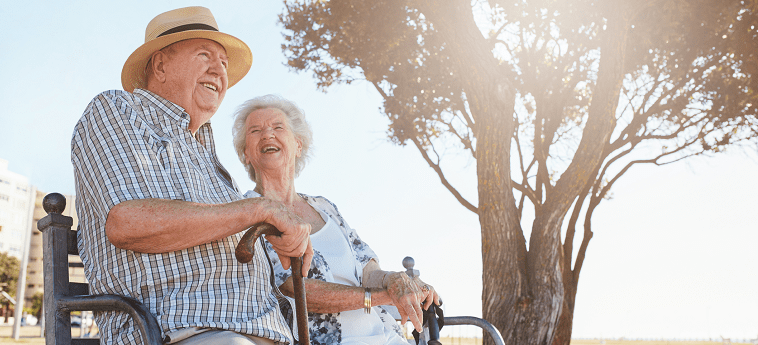 The summer season is on its way, bringing warmer temperatures and more sunshine. Before you participate in your favorite seasonal activities with your aging loved one, be sure you are caring for elderly parents by taking a few precautions. Seniors are especially prone to health risks in the summer months, including complications from dehydration or overheating. However, a few easy precautions can keep your summer activities safe for everyone involved.
Seniors in the Summer
Summer heat and sun can be dangerous for anyone, but seniors are at an especially high risk of complications caused by elevated temperature. According to the Centers for Disease Control and Prevention, seniors over the age of 65 are more prone to experience heat-related health complications. This increased risk can be due to medications, a lower ability to adjust to changes in temperature, or an underlying medical condition.
Seniors can also experience an increased risk of dehydration during summer months. For those over the age of 65, dehydration and the urinary tract infections that can result from lack of fluid intake are much more serious than the same conditions in their younger counterparts. Dehydration can cause acute confusion, as well as increase the risk of falls in older adults, leading to emergency hospitalizations or other complications.
Keeping Seniors Safe
The best way to keep your senior loved one safe from high temperatures is to prevent unsafe situations and reactions. Ensure your loved one has a working air conditioner and take care to fix any issues well before the summer heat begins. Just as importantly, make sure your loved one is running their air conditioner and keeping the temperature inside cool. When summer temperatures soar, the safest place for a senior is often inside an air-conditioned home.
If your loved one is heading outside, try to keep activities to the morning or evening hours, when the temperatures are not as high. Encourage your loved one to wear lightweight and loose-fitting clothing, and leave their favorite sweater at home. Sunscreen is also important, as is utilizing a wide-brimmed hat to keep the sun off the head and face.
Finally, and most importantly, ensure your loved one is drinking plenty of clear fluids. Water is the best option, because beverages that contain caffeine or alcohol can further dehydrate the body. Some seniors resist drinking too much, especially if they are on diuretic medications like Lasix, however, staying hydrated is the most effective way to stay healthy in the hot summer months. Encourage your loved one to keep a water bottle nearby at all times and to add a few slices of citrus fruit to add a bit of flavor to their beverage.
Warning Signs to Know
Even if you are taking healthy precautions to combat the heat, your senior loved one could still experience problems. If you see your loved one becoming fatigued or acutely confused, it could indicate a heat-related complication. Seek medical treatment immediately.
More importantly, check in on your loved one often. If you notice they are not making good decisions related to their health or are not turning on their air conditioner or following medical advice, it could be a good time to intervene before more dangerous problems arise. Talk with your loved one's doctor if you have concerns, and consider exploring the option of senior living. Not only are senior living communities nice and cool, they offer a safe environment for residents to enjoy delicious meals and engaging activities.
If you aren't sure how to bring up the topic of senior care, check out our Talking to Your Parents Guide. It is full of information that will guide you through the discussion. Stay safe this summer!