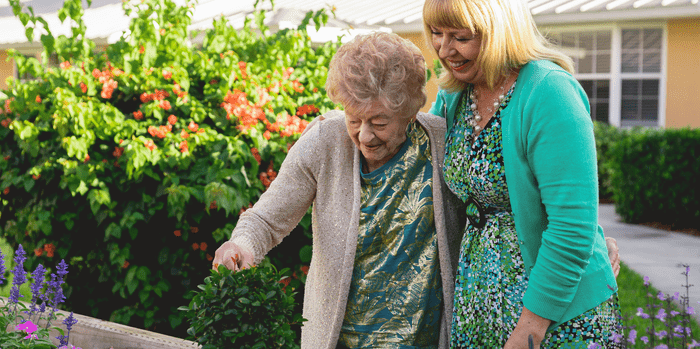 Choosing a senior living community is a major decision, and one that should be carefully investigated. Unfortunately, many seniors or their family members are forced to make a quick decision in a crisis situation for a senior community that best suits the needs of the senior. Don't find yourself unprepared or undereducated about your options. Instead, choose to make a plan for your next apartment before a medical emergency occurs.
You can, and should, explore the senior living options in your area before you are ready to move in. Knowing a bit about the senior living industry will only help you and your family when you are are in the decision-making process. In order to help you be as prepared as possible, we have compiled a list of tasks to begin, even if you are not ready to move into a community quite yet.
1. Get Your Finances in Order
Before you can begin exploring senior care communities, you must take time to get your finances in order. Consider making an appointment with your financial advisor to talk about your income and budget. Review your insurance policies as well as any long term care insurance that you may be covered under.
Fortunately, senior care communities are quite affordable, especially when you consider payments that you currently make each month for living expenses. Our cost calculator is an easy way to determine how much you are spending; once you have that amount, you can discover what you can realistically pay for an all-inclusive senior care community.
2. Find Communities in Your Area
Once you know your preferred budget, you can begin to look at senior care communities in your area. There are multiple types of senior communities, based on the level of care that each resident is given. Independent living communities, for example, offer lovely apartments paired with on-site amenities and caregivers. Assisted living communities offer additional assistance, with caregivers on-site 24 hours per day. Skilled nursing facilities are for residents who need medical management or oversight; these communities have nurses and caregivers around the clock. Finally, memory care communities are tailored especially for the safety and engagement of seniors living with Alzheimer's disease or other dementia.
If you are not sure what level of care may suit your current or future needs, schedule an appointment to talk about it with your doctor. That recommendation can help you know which senior community level of care is best for you now and in the future. Using that information, you can begin to search for senior communities in the area you wish to live in. Some seniors choose to live in a senior community in their current town, while others choose to live in a town near family or friends. In any case, be sure that the communities you are considering are accessible to those who may be visiting on a regular basis.



3. Take a Tour
Next, call senior communities in your desired area and schedule a tour. These tours can prove to be valuable in your search, as you get to see the community up close, and not just over a computer screen. Tours give you the chance to meet staff members and see the community in action. Try to schedule a tour to coincide with lunch or dinner, as meal times are a great way to see residents socializing (or not) with one another. Further, you get to take a look at the community menu and see if the food looks delicious.
During your tour, take time to observe any community activities or events that may be taking place while you are there. Exceptional senior communities offer an active calendar packed full of new learning and social opportunities designed especially for residents. If you can't catch one in action, ask for a community activity calendar and newsletter to read at home.
4. Speak to Residents
Finally, speak to the people who will know the most about the community—the residents and their families! Don't be afraid to ask your friends and peers about the senior communities that you are looking at. While not every experience is the same, you can get a good feel for a community based on the feedback you hear from current and past residents, as well as family members of residents. Once you are ready to make your senior care decision, be sure to let your friends and family know, too!
When you are ready to tour senior communities that offer engaging programming, nutritional and delicious meals, and happy residents, give us a call. Our team works hard to ensure we are giving seniors in our communities the best care in the country.