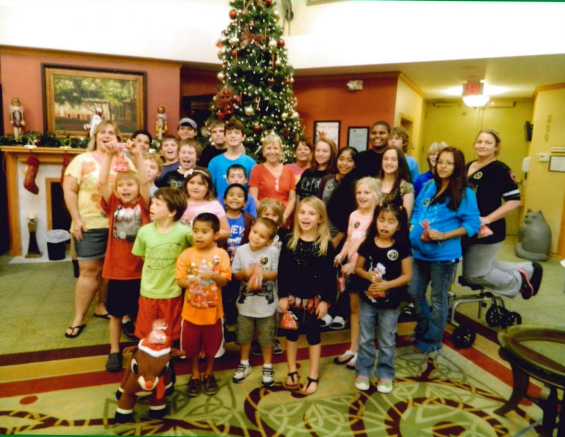 Barrington Terrace's "What Could You Do with $1?" project took place on December 22, and it continued a treasured holiday tradition for the Arbor community in Naples, Fla.
Since 2012, Barrington Terrace of Naples has joined forces with the Collier County Sheriff's office Police Athletic League to help host "Shop with a Cop," a holiday program serving children in the nearby Everglades City area. About 30-35 kids, who might not otherwise receive any gifts for Christmas, are invited to shop at Kmart for toys or gifts, accompanied by local law enforcement officers. Each child receives $100 to spend.

Phyllis Sargeant, Barrington Terrace's Resident Care Director, chokes up just a little as she recalls shopping trips from past years.

"Most of the kids were not that interested in buying for themselves," she said. "Instead, they bought gifts for their parents and siblings. To me, that was just amazing."

In past years, the kids gathered at Barrington Terrace after the shopping trip, sang carols to the residents, and then enjoyed a pizza lunch in the community's clubhouse. This year, due to transportation and other issues, the kids will stay in Everglades City for a "Breakfast with Santa."

Barrington Terrace will stay involved, however. The community donated funds this year from a companywide project called "What Could You Do with $1?" The Arbor Company challenged each of its 28 communities to creatively employ a small grant equivalent to $1 for each employee and resident at the community. Staff and residents in each community were challenged to find a way to use the money in a "pay it forward" way, to create the biggest impact possible.

In addition, a small group of residents will travel to the breakfast to enjoy the festivities this year in Everglades City.

"These are kids that may or may not even get a pair of shoes for Christmas, yet when they've come to the community in past years, they were so polite, well-behaved and caring," said Phyllis. "They made Christmas cards for every single resident. They're such a heartfelt group of kids, and that makes the project so worthwhile for all of us."