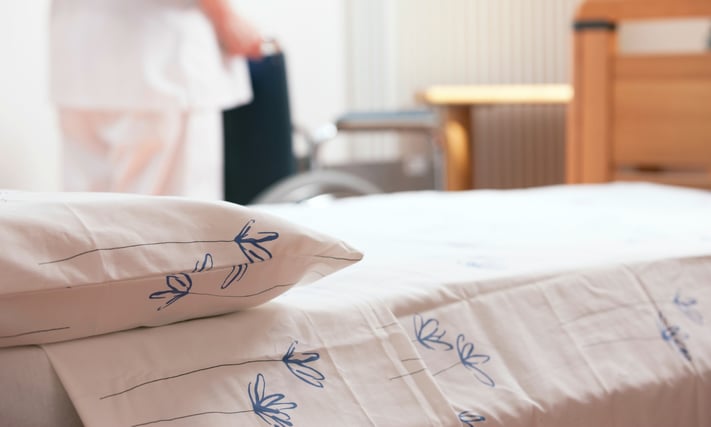 When you begin looking for extended care for your aging loved one, you find yourself thrust into an industry that you may know next to nothing about. The senior care industry comes with its own terminology; learning how to "talk the talk" to get your questions answered can be overwhelming and quite confusing, especially if you are already worried about the failing health of a loved one.
When it comes to extended living options for seniors, two common options are assisted living and skilled nursing. Both are important services and each have their rightful place within the senior care industry. Each tote their own benefits and drawbacks, but both are not necessarily appropriate for the situation your loved one is in. In order to break up some of your confusion, as well as give you an overview of both of these services, read on to find out what makes the difference between these two industry giants - assisted living and skilled nursing.
Who They Serve
When it comes to the population they serve, both assisted living and skilled nursing communities serve seniors. But that is where the similarities tend to end.
Assisted living communities serve seniors who are seeking some additional support with activities of daily living (ADLs) such as dressing, grooming or toileting. Seniors living in assisted living also benefit from more socialization and an active event calendar full of opportunities to get out and about. Assisted living also sometimes offers memory care services for those who are able to still ambulate independently. Finally, seniors tend to move into assisted living communities for the long term, however most are paid on a month-to-month rental basis, like an apartment.
Skilled nursing facilities (sometimes referred to as 'nursing homes', though that term is defunct within the industry) serve seniors who have complex medical needs that range from pain management to advanced memory issues. Skilled nursing residents typically need more advanced help with ADL care. Seniors living in skilled nursing communities also benefit from socialization, an active event calendar, and specialized dining choices. However, skilled nursing commitments can be either long-term or short-term; some residents reside temporarily in skilled nursing communities to rehabilitate after a surgery or an extended spell of illness. Skilled nursing offers the support those residents need to get better before heading off to their own home or assisted living apartment.
Staffing and Specialties
Assisted living communities do have 24 hour care, typically in the form of nurses and certified caregivers. Dining staff, housekeeping staff, maintenance staff, and other ancillary staff members are available throughout the day. Skilled nursing communities, however, offer much more clinicians and other medical personnel.
Skilled nursing communities typically have on-site therapists - physical therapy, occupational therapy, and speech therapy are available and working daily, including weekends. Nursing staff is increased from assisted living, and nurses are also available who have specialties such as wound care or restorative therapy. Caregiver ratios are lower simply due to the amount of medical care and support that skilled nursing residents require. Skilled nursing communities also boast activity, maintenance, housekeeping, and dining staff; most also feature an extensive social work staff that can assist with everything from caregiver support to navigating the payment system.

Costs and Expenses
Finally, assisted living and skilled nursing vary on payment and expenses. Assisted living communities typically charge an all-inclusive rent to be paid monthly; this expense covers your apartment, food, and services. Extra expenses may include participating in activities or outings, as well as any transportation costs. Assisted living is not covered by Medicare and most do not accept Medicaid.
Skilled nursing services are covered by Medicare for up to 100 days, as long as there is a 3 night hospital qualifying stay prior to admission and the resident continues to meet goals. Long-term care is not covered by Medicare, but many long-term care insurance plans cover some of the costs and most skilled nursing communities accept Medicaid (though there may be a waiting list).
More Than a List of Features
Choosing where your loved one is going to live for at least a period of time is a big decision that shouldn't be taken lightly. Of course you want to pick an option that provides the very best care, but there is more to it than that. Often the "feel" of the location is going to weigh into the decision as well.
Assisted living communities tend to feel like their name suggests: communities. The best assisted living communities are often warm and inviting and have an active feeling of life as soon as you enter the front door. The apartments are typically decorated with the resident's own furniture and some even sport small kitchens and separate living and bedrooms.
By comparison, skilled nursing facilities have more of that "facility" feeling. In many ways, they can feel more like hospitals. The furniture is typically already in place in skilled nursing rooms, and beds are usually hospital-style beds with rails.
You Have Options
If your doctor has suggested a move into a skilled nursing facility, even for a temporary rehabilitation stay, you still may have other options. Look for assisted living communities in your area that may offer respite, or temporary stays for seniors who need to recover from surgery or go through rehab. Many assisted living communities have in-house rehabilitation or partner with rehab providers and home health agencies to provide the same level of support and care that you might find in a skilled nursing facility, but without that "facility" feel.
While these are certainly just a few differences between assisted living and skilled nursing, it should be able to at least narrow down the type of care that your loved would would be best suited for. Good luck on your senior care journey!