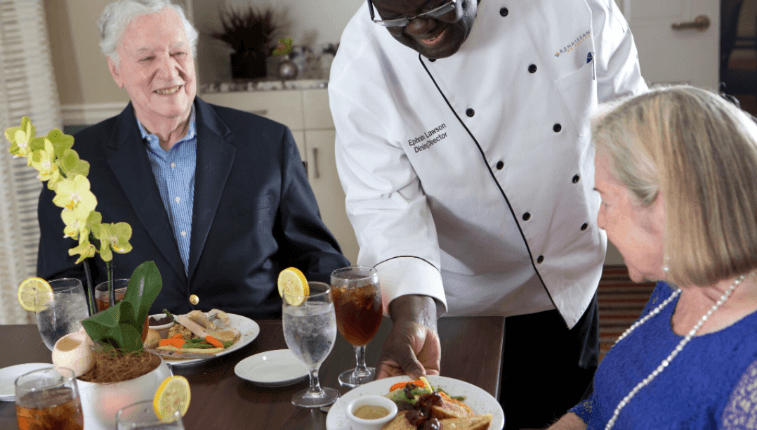 Mealtime is supposed to be an enjoyable, social reprieve from the grind of everyday life. But many seniors find that meal planning, grocery shopping, and meal preparation eventually become more exhausting than enjoyable.
Between clipping coupons, budgeting for food, meal planning, grocery shopping, and meal preparation, meals can be a real hassle. Seniors might need to ask family members and friends for help, thus making meals even less enjoyable. But understanding assisted living means understanding that assisted living takes the pain out of preparing and planning meals.
Understanding Assisted Living: Taking the Pain Out of Grocery Shopping
Most people don't understand what it's like to plan meals and shop for groceries on a fixed budget until they personally experience it. Food prices are constantly rising, and clipping coupons only gets you so far. Grocery shopping can feel like a losing game to seniors.
Then there's the trouble of driving to the store, perusing aisles for food, checking out, loading groceries into the car, and unloading the car at home. Going to the grocery story can feel like going to gym.
But many assisted living residents don't have any need to do things such as meal planning, clipping coupons, and grocery shopping—because meals and food are included in monthly rates. Even better, healthy, nutritious food options are made available to you throughout the day.
Understanding Assisted Living: Taking the Pain Out of Meal Prep and Nutrition
Preparing healthy, nutritious meals requires a lot of work and time on the feet. This often contributes to seniors opting for less-healthy, easier meal options that don't require as much prep and cleanup time in the kitchen.
And for seniors who receive special dietary instructions from a doctor, preparing meals and ensuring proper nutrition is even harder. Easy and fast food options are rarely low-sodium, low-cholesterol, or heart-healthy.
Assisted living takes care of the hard stuff by providing three nutritionally balanced meals a day that are specifically put together to ensure health and longevity for seniors. Most states require assisted living communities to post seven days of menus at a time. In those menus, you'll often find food that is always available, in addition to special options available on specific days of the week.
Also, bistros are typically made available to provide healthy snacks throughout the day, as well as happy hours featuring special or seasonal options on average a couple times a week. By making meals and snacks that are prepared with senior nutrition in mind, assisted living takes the pain out of meal prep and nutrition.
Understanding Assisted Living: Making Mealtime Social Again
Seniors routinely say that one of the hardest parts of mealtime is that eating alone is when they feel loneliest and most isolated. And feelings of isolation often feed into conditions such as depression, anxiety, and other things that negatively impact overall health.
Besides that, seniors are likely to eat more food and make healthier eating options when they're in the company of friends, like in the cafeteria of an assisted living community.
The socialization and companionship that comes with mealtime in assisted living communities doesn't just make life more enjoyable for residents—it actually contributes to their overall health and well-being.
Understanding Assisted Living: The Final Course
Most seniors eventually find that meals and nutrition eventually become more of a burden than a reprieve from everyday life. Meal planning, budgeting for groceries, grocery shopping, loading and unloading groceries, meal prep, and cleanup require time, energy, and money. Assisted living takes the pain out of meals by including prepared meals and snacks in monthly rates, and by ensuring proper senior nutrition. Also, turning mealtime into a social event again not only makes life more enjoyable, but has also been shown to help seniors fight depression and make better food choices. That's how assisted living takes the pain out of meals.