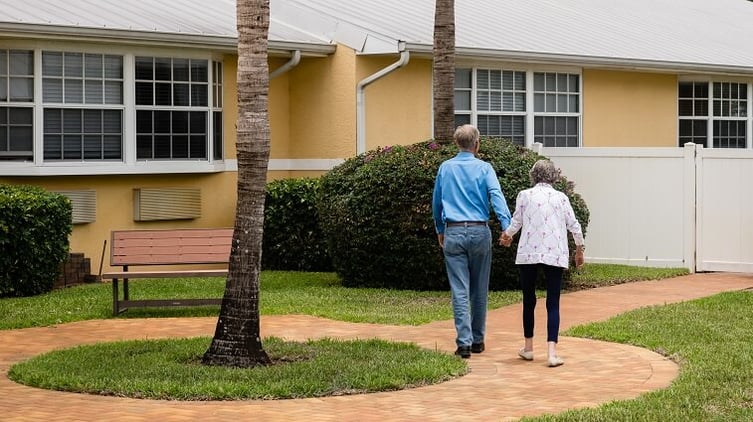 If you're exploring your senior living options, you probably have lots of questions, and the process can be overwhelming.
But it's important to remember that questions are good. Getting these questions answered will bring you closer to understanding senior living, finding the best option for you, and transitioning into a community that you can call home.
The Arbor Company's team fields lots of questions about senior living each day. Here are answers from our local experts in our communities to three of the most common ones they hear:
1. How Will I Know When It's Time to Make the Move to Senior Living?
Timing the transition into senior living can be a challenge for both seniors and their loved ones. Because everyone has different needs, priorities, and views on senior living, there's no single strategy that works for everyone.
"This is a difficult question because it looks different for every family," Caroline Weldon, the executive director at Arbor Terrace of East Cobb, says. "But there are a few trigger points that you need to consider: Safety and quality of life are my top two. If your loved one is unsafe at home, you have to make a change. It may be difficult, and even scary, but I promise that the alternative of turning a blind eye is way scarier."
Weldon's best advice is to begin researching senior living options well before they're needed. Then, if a medical emergency or changing circumstances at home require a sudden move, you won't have to make a spur-of-the-moment decision.
"I continuously run into families who waited to look at options and then have to make a hurried decision due to a crisis," Weldon continues. "We don't always make good decisions and consider options carefully when we're in the midst of a crisis. Another important factor that people often don't consider is availability. Many quality assisted living communities stay close to fully occupied and run waiting lists."
Because the transition into senior living can be difficult for families, Shirley Paulk, former senior vice president of sales and marketing at The Arbor Company, says that any uncertainty or resistance that crops up can lead seniors or their families to conclude that "we're not ready."
"So one must ask oneself, 'What does ready look like?' Is it another fall, another call in the middle of the night from a concerned neighbor, or something more tragic?" Paulk says. "What families acknowledge is that they are the good son or daughter trying to do the right thing. They need permission and counsel as to how to do this, even though they had once promised they never would do this to Mom or Dad. We can help them recognize that doing the right thing looks different today from the day they made that promise. A short time of anger will feel better than a lifetime of regret."
And it's common for seniors to say they wish they would have made the decision sooner after transitioning into senior living.
"Many of the fears they had were for naught, and the quality of their life and their loved one's life makes them wish they had done this six to 12 months sooner," Paulk says.
Karen Emerson, the executive director at Arbor Terrace of Knoxville, encourages seniors to remember that "home is where you are, not in the house or the condo. Home is where you make it."
2. Is Senior Living the Same Thing as a Nursing Home?
Francine O'Neill R.N., the senior vice president of resident care at The Arbor Company, finds herself explaining the difference between nursing homes and senior living communities on a regular basis.
"Many consumers don't understand the difference between skilled nursing facilities, rehab centers, assisted living communities, and independent living apartment complexes," O'Neill says. "I explain we are residential living communities that provide supportive assistance and coordinate care with other providers in the resident's home."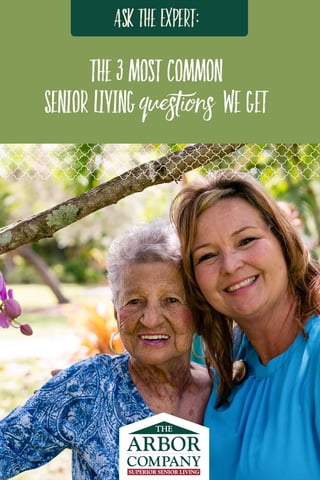 Assisted living communities are designed for residents who need ongoing assistance with activities of daily living (ADLs) like dressing or bathing, but who otherwise live independently. Independent senior living communities are designed for residents who may not need help with ADLs but want a secure, monitored, low-maintenance home in an apartment-like community. Skilled nursing, meanwhile, is designated for those who need round-the-clock medical care and supervision.
"Consider the amount and type of assistance the person moving in will need before picking out the specific apartment," O'Neill says. "Location in the community can mean the difference between a successful, safe transition and the need to relocate shortly after moving in if the apartment location doesn't line up with the care and services that are needed."
Weldon, the executive director at Arbor Terrace of East Cobb, says that confusion about skilled nursing and senior living communities often leads to seniors thinking that they'll lose independence or that they'll experience a lower quality of life after transitioning into senior living.
"Another top consideration is quality of life. Does your loved one eat microwave dinners in front of the TV every night? Does he or she have any visitors? Do you know the last time he or she laughed or went outside? Living in a senior living community can provide so much more than three meals a day and clinical oversight," Weldon says. "Life in a senior living can be full of laughter, support, and a true sense of community. It's a place where friendships are formed and life is lived to the fullest every day. And guess what. Someone else will clean up for you after your party!"
In many ways, senior living residents are surprised to find that their new accommodations actually make them more independent.
"It seems counterintuitive, doesn't it? But it's true," Weldon continues. "Residents in senior living are offered the exact amount of support that they need, and they no longer have to rely on family members or friends for those tasks. I love to hear residents tell their loved ones, 'We can go out for lunch, but we have to be back by 2:30 for my watercolor class.' Moving into a senior living community doesn't have to be the end of the world—it may turn out to be a wonderful new beginning."
When it comes to understanding the differences within senior living, Laura Ellen, the vice president of engagement at The Arbor Company, says, "Senior living is so much more; you have to visit to believe it."
3. How Much Will Senior Living Cost, and What's Included?
The only thing that seniors worry more about than finances is deteriorating health, so it's no surprise that questions related to the cost of senior living care are among the most common ones that we field.
Unfortunately, there isn't a simple answer when it comes to senior living costs. Costs vary greatly across the country—and even within specific regions of the country. The best way to gauge senior living costs in a particular area is to make a few phone calls to area communities.
The level of care that you or your loved one needs will play a big role in determining costs, too. Incoming residents undergo an assessment that helps staff members determine what arrangements need to be made for personalized care, Soukhy M. Clark, the executive director at Arbor Terrace of Decatur, says.
And questions about whether or not Medicare covers senior living costs are also very common, Beth E. Richardson, the executive director of Arbor Terrace of Johns Creek, says.
"The answer is no, it doesn't," Richardson says. "This is a private pay product, although many long-term care plans have morphed into having community-based care benefits. Look into this before you come. While we provide the necessary documents and information related to credentialing, we do not make the final decision related to your loved one's coverage initially or ongoing."
Medicaid benefits may be available for low-income seniors depending on state-run programs, and veterans may be eligible for housing benefits through the Department of Veterans Affairs, so it's important to explore those options as well. An Aging and Disability Resource Center in your community would be a great place to start.
Bringing It All Together
Researching and transitioning into senior living can be an overwhelming and confusing experience. No matter what questions you have, it's important to remember that you're not alone. Senior living communities have support staff on hand that can help you determine what type of senior living best meets your needs, what financial options might be available to you, and how to make the transition as seamless as possible.