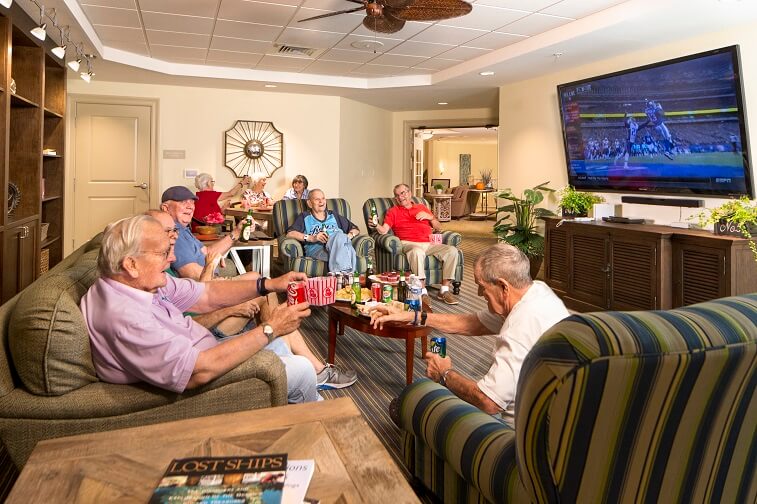 A whopping 93 percent of people who move into senior living communities make friends with their new neighbors—and the benefits of those new friendships go well beyond card games, good laughs, and happy hours.
Sure, living with friends makes life fun and enriching. But it also influences positive lifestyle changes that lead to better mental, cognitive, and physical health. The end result is longer, happier lives. It's true: Living with friends can actually be good for your health and well-being.
The Power of Hugs and Strong Social Networks
Would you believe that hugs can strengthen your immune system? People who are frequently hugged had a better chance of fighting off a cold virus, researchers at Carnegie Mellon University found. Living with friends promotes strong social networks, symbolized by hugs in the study, and can actually boost your immune system.
And the benefits of friendship go well beyond the immune system. People with few close friendships were 50 percent more likely to experience a first-time heart attack in a Swedish study. Similar results were found when it comes to coronary artery disease. The reason: Close friendships, as well as living with close friends, relieves stress, which prevents hypertension and inflamed arteries.
So, it shouldn't come as a surprise that seniors who take part in strong social networks were found to outlive those with fewer friends by an average of more than 20 percent in one study. Surprisingly, strong connections with family members did not have the same impact as strong relationships with friends in the study.
The Devastating Impact of Loneliness and Isolation
Feelings of loneliness and isolation can be a big problem for seniors who live alone. Surprisingly, the negative health impacts of loneliness on seniors' health can be on par with smoking cigarettes, excessive drinking, and obesity, researchers at Brigham Young University found.
One of the biggest problems caused by feelings of loneliness and social isolation is that they're often linked to depression. Depression has been known to lead to increased disability, weight loss, disturbed sleep, and even suicidal thoughts.
What's more, loneliness has been shown to lead to cardiovascular, hormonal, and immune-system changes that diminish your ability to fight infection and promote bone and muscle loss, ultimately leading to frailty. In the end, the Brigham Young researchers found that loneliness increased the risk of death by 26 percent in seniors.
Living With Friends Will Keep Your Mind Sharp
Living with friends leads to a lot of daily interactions, social activity, and mental stimulation. Believe it or not, all that activity can promote brain health and help maintain and improve your memory.
On a given day, for example, you might visit over morning coffee, play board games, work on a choral number, and take a walk with your friends. All that activity and stimulation promotes healthy, active behaviors. That's why one study found that older women who were part of active groups were 26 percent less likely to develop dementia and experience other forms of cognitive decline. Also, women who had daily contact with friends had their risk of Alzheimer's disease cut nearly in half.
The bottom line is that living with friends promotes more active lifestyles, mental stimulation, and personal connections that can enrich your life and improve your health and well-being for years to come.
When was the last time that you lived with a friend?