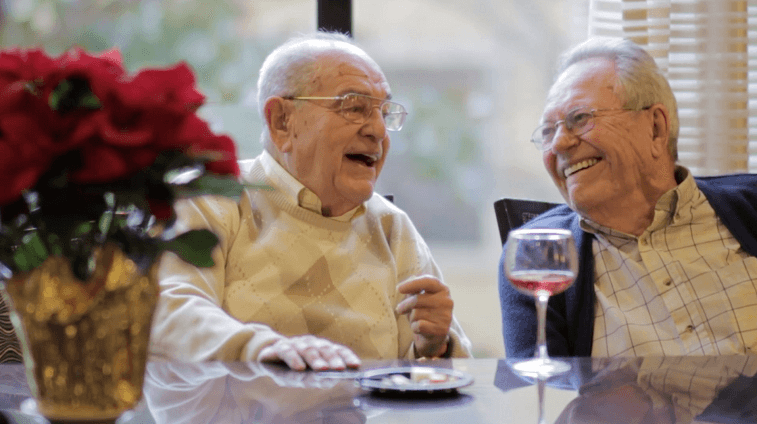 Finding a memory care community that celebrates your loved one's individuality will ensure that they thrive with personalized care plans and activities tailored to their specific needs and interests.
For many family caregivers, however, the search for quality memory care can be downright overwhelming. Chris Ebell, an occupational therapist working with geriatric populations for more than 30 years and an adjunct professor and instructor of programs related to dementia care for more than 20 years, said it's all about finding a community that will truly get to know and embrace your loved one.
What are some of the ways you can recognize a quality facility?
There are all kinds of surveys and resources online, Ebell said, and starting there will help you find memory care communities in your area and come up with questions to ask their staff.
"So much of it could be about, obviously, keeping your loved one healthy and having good nutrition and having medical care on site and taking care of their physical needs," Ebell said. "But, from my perspective, what I want to be looking at is how they're addressing your loved one's emotional needs, and how they're demonstrating that they know who this person is."
One of the keys to effective memory care is successfully engaging residents. It's hard, if not impossible, to accomplish that unless staff has taken the time to understand residents on a personal level.
"I want to know that these kind[s] of things are available to them every day. It's not just being available; it's about engaging them," Ebell said. "You can go in the communities, and they'll have wonderful activity boards. If you look at the activities and only see a few people in them, I want to question that. It may be very appropriate. Maybe there's a group of ladies who like to quilt, and there's not very many of them, so they have a small group. The point is that everyone else who doesn't like to quilt should be engaged in another way. They can't initiate it. That's something they lose with dementia."
Ultimately, dementia doesn't change the fact that your loved one has had a lifetime full of unique experiences, passions, and interests that have shaped their worldview—and their new community should embrace that.
"The point is that everyone should be celebrating who this person is. That's hard to find, but communities are getting much better at it, and actually it's starting to be mandated," Ebell said.
What types of activities and programs should families look out for?
Everyone has different interests and passions in life, and the type of activities and programs you look for should reflect your loved one's personal preferences—but Ebell always recommends musical programming.
"Even just having people listen to music that they love," Ebell said. "There's a lot of research about how music impacts our brain. Think about it: Music can make you happy; music can make you move; music can make you sad. It hits an emotional part of the brain, and that's really true. The research shows that it goes to that part of the brain. I don't know that there's anything more powerful to evoke emotion than music. And obviously I want to evoke very positive emotion."
Not everybody plays music or has a deep interest in music, but most people had periods of time in their lives when they listened to music a lot.
"That's the music you want to play for them," Ebell said.
What credentials should the staff have?
Ebell likes to go beyond certifications that add letters behind staff member's names in her search for quality memory care.
"I want to take it [further]. I want to know how they are mentored. I don't want to hear that they just sat in a program for two days," Ebell said. "I want to hear about how that information is being used in care planning, and any kinds of meeting[s] that they have as staff—how is that information being used?"
It's also a good idea to talk to community administrators about minimum training requirements for any employee who starts working in the community, Ebell added, and state regulations also address that.
What are the goals of effective dementia care?
The goals of dementia care are fairly simple: for your loved one to be happy and engaged.
"It's as simple as people looking happy. You want to see that your loved one looks happy and engaged—and it doesn't have to be all day long, every moment of the day," Ebell said. "But there should be moments throughout the day where you see them happy and engaged."
And effective memory care communities should foster deep personal connections between your loved one, their neighbors, and staff members.
"You should see staff not just walking by people, but staff who are stopping to say hello to everyone in a room. Even if it takes two minutes: 'Maria, how you doing? I love that necklace.' Whatever that is," Ebell said. "It feels like there is a family; that there's really, ideally, the ideal community I'm talking about."
What sort of safety measures should family members be aware of?
The most effective safety measures in memory care communities are customized care plans and programs that keep residents engaged and busy throughout the day, Ebell said, and it all begins with a good initial evaluation.
"If I've done a good evaluation and discover where [a resident] is in her stage of dementia, I'm going to know I have this woman who loves to move, is going to move. I want to celebrate her movement; I want her to move every day," Ebell said. "I know she has to be supervised all the time to be safe. People keep looking for—they want one thing that's going to make all this OK. There isn't anything."
Another strategy is to engage residents with tasks around the community. Setting tables, wiping tables off—even if a staff member has to come behind and do it again—can help prevent unsafe behaviors like wandering.
And some memory care communities have gotten away from traditional security systems that sound alarms when residents leave a secure unit, because, Ebell said, "people are scared by the alarms, so they fall."
"I want to reinforce [that] people are looking for an answer, and there isn't an answer, because we're all human, and we're all very, very different. That's what we have to look at and celebrate," Ebell said.
Seeking quality dementia care: the bottom line
Ebell suggests that the ideal memory care community for your loved one will take the time to get to know them on a personal level and will use that to engage them in activities, conversations, and tasks that your loved one truly enjoys. Your goal should be to find a community that celebrates your loved one's individuality.
"My mission in life is really to help people understand that people with dementia have abilities, no matter what stage they're in," Ebell said. "They have abilities to engage in life. It's important for us to understand how to engage them."