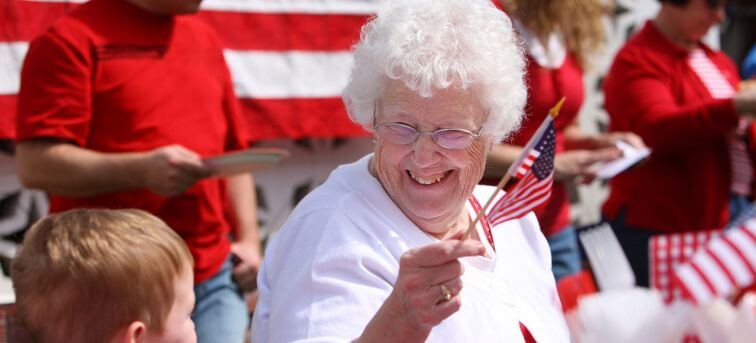 You're never too old to enjoy Independence Day. Indeed, for many people the 4th of July sparks fond memories of childhood barbecues, early parenthood, and joyful celebrations with beloved friends. For seniors who have mobility or cognitive issues or who have transitioned to independent living, a change in how they celebrate the 4th of July can feel demoralizing.
Don't give up on this important holiday. Your senior loved one might go to bed earlier or need some help getting around, but they can still celebrate in style. Here are some great options—no matter your age.
Family Game Night
If Independence Day once meant sack races and horseshoes, seniors with limited mobility may feel left out. Adapt the holiday to meet their needs and abilities. Instead of outdoor games, move the party indoors. Plan a family board game or trivia night. Break out some sweets, some music, and a mischievous spirit. Then, give awards to game winners and encourage some light-hearted competitive ribbing.
Fireworks from Indoors
The heat of midsummer can be too much for many seniors (and their grandkids). Seniors, especially those with anxiety, may also be startled by loud noises and overwhelmed by giant crowds. Enjoy the fireworks from indoors. Rent a hotel room with a balcony or big window near a local fireworks display. Then, enjoy the display from the comfort of your room. Word to the wise: Hotels near popular fireworks displays book quickly, so reserve your room well in advance.
Fireworks on a Lake or Ocean
If you want a truly spectacular family outing, consider planning a trip to a lake or ocean to watch a fireworks display over the water. You can stay cool with a quick dip, and your senior loved one may be awestruck by the beauty of spectacular explosions over the water.

Honoring Historical Contributions
For many, Independence Day serves as a reminder of what they've contributed to this country. Yet, seniors often go unthanked, their contributions forgotten or unnoticed. Honoring veterans is great, but remember that veterans aren't the only people who have contributed something. Military spouses, community organizers, doctors, nurses, artists, and many other people may have played a role in our nation's history. Use the 4th of July as a chance to interview the senior in your life about their unique contribution to our nation.
Consider memorializing your senior loved one's story by visiting a Storycorps booth. Then, sweeten the meaning of the moment by helping a grandchild or other young family member devise interview questions.
An Indoor Picnic
Picnics are great in theory—until the ants go marching toward the watermelon, the heat melts the ice cream, and the kids start screaming. Leave the drama behind with an indoor picnic. Pack a delicious meal, spread out a blanket, and eat together inside. Channel the picnic spirit by adding a few games or going for a brisk walk around the block afterward.
Family Movie Night
No law says you have to be outside to enjoy Independence Day. Instead, try planning a family movie night. Gather your sleeping bags and crowd together in someone's living room. Then, everyone gets to pick a movie or show to watch—popcorn and ice cream optional, but very much recommended.
Get Crafty
Try scheduling some craft days in the lead-up to Independence Day. One option is to try a number of crafts that are both senior and child-friendly, so that grandparents have something fun to do with their grandkids—or you can encourage the senior in your life to teach skills to the younger generation. Ask them for help with brownies, a family recipe, or a delicious summer gazpacho. Then enjoy the fruits—or crafts—of your labors by eating them or displaying them on Independence Day.
Summer is a great chance to reconnect to the senior in your life. Schedules are looser. Grandkids are eager to play. Take advantage of the longer days and plan some family time.
If the senior in your life needs more help to enjoy the balmy summer months, independent living is a great option that promotes an active, engaged life. Check out our guide to independent senior living to learn more!