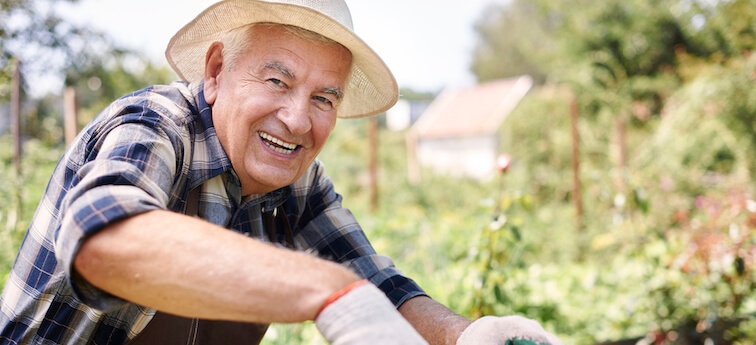 Sunny days and warmer temperatures are here, which signals all summer fun to begin. However, in the midst of the fun family get-togethers and neighborhood barbeques, the dangers of summer for older adults are significant. If you find yourself caring for an elderly loved one, you may already be preoccupied with keeping them safe while at home and while out and about. You may not, however, be aware of a few key safety measures to take during the summer months.
Increased temperatures, as well as an increased risk for foodborne illnesses and dehydration, are especially serious for older adults. Here are just a few precautions you can take in order to ensure your loved one enjoys the summer season while staying safe and healthy.
1. Encourage Water Intake
Dehydration can cause a litany of serious complications for older adults, including acute confusion, decreased strength, and even infection. To keep dehydration at bay, encourage your loved one to drink plenty of fluids, especially water. While you don't have to cut out caffeine entirely, it is wise to limit caffeinated drinks, as well as alcohol, as these tend to increase the risk of dehydration. Instead, opt for plenty of water by keeping water bottles at the ready and encouraging small sips throughout the day. If your loved one shirks plain water, jazz it up by adding slices of citrus fruits, cucumbers, or berries.
2. Turn On the Air Conditioner
Anxiety over increased energy bills or memory loss issues can sometimes make seniors avoid turning on the air conditioner. Ensure your loved one is safe and cool indoors by setting the thermostat appropriately and keeping the air conditioner in working condition. If there is ever an issue with the air conditioner, have it serviced immediately, and take your loved one to a cooling center in the community, such as the local library, mall, or senior center, in the meantime.
3. Dress In Layers
Wearing seasonally inappropriate clothing can cause seniors to overheat quickly. Be sure your loved one is dressing in layers and ditching the sweater during trips into the hot weather.
4. Don't Forget Sunscreen
Seniors are just as likely to burn in the sun as their younger counterparts and sometimes are even more at risk due to side effects from prescription medications. Keep sunscreen handy, and apply it before heading outside for your neighborhood walk or outing.
5. Look For Cooler Options
When you have the option, choose a shady spot over a sunny one and a morning or evening jaunt outside over one at noon. These small choices can reduce the time you are in the extreme heat of the day and can keep your loved one feeling comfortable.
6. Beware of Unsafe Picnic Foods
Did you know that seniors are at an increased risk for foodborne illnesses? It's true. Thanks to a decreased immune system and decreased stomach acid from the aging process, seniors can be especially sensitive to contracting foodborne illnesses. Even more concerning is the fact that they can suffer severe consequences, including emergency hospitalization, from those illnesses. Be extra careful about unsafe picnic foods. Keep your foods on ice until consumed, and toss anything that has been in the sun or at room temperature.
7. Dementia Increases Risk
Seniors living with dementia are at an increased risk for summer-related dangers due to memory loss and lack of good judgment. If your senior loved one has Alzheimer's disease or another form of dementia, be vigilant during this season to make sure they are appropriately dressed, eating well, and drinking water often. Curb their time outdoors to when the weather is cooler, and spend more time in air-conditioned spaces.
Caring for a senior loved one is a major responsibility, especially during extreme temperatures. If you are concerned that your loved one is no longer being successful at home, or if your loved one could benefit from engaging activities and friendly neighbors, senior living is the best option. Senior living communities are bustling with events, relationships, and wellness all year long. Learn more about assisted living with our Assisted Living Guide, and discover what adventures await for your loved one!