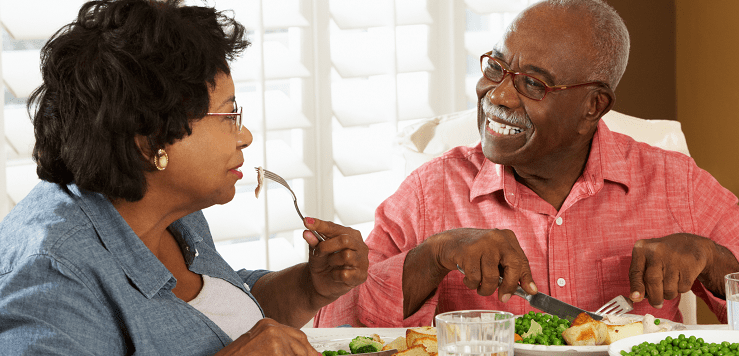 Everyone knows the saying, "you are what you eat," and current research only continues to demonstrate the importance of nutrition choices. Eating the proper foods can do more than decrease weight gain. Now we know that foods can decrease inflammation, diminish the effects of chronic skin disorders and even aid in decreasing gastrointestinal complications. For older adults, nutrition is even more vital because the body requires a different mix of vitamins and protein to maintain wellness.
Nutrition for seniors can be a complicated subject, with misinformation shared online and passed through peer groups. Unfortunately, myths can give seniors and their loved ones the wrong impression about certain eating habits, protein intake, and other challenges that accompany chronic conditions or illnesses. Here are a few senior nutrition myths you should recognize, along with the truth of the matter.
Myth: Seniors Eat like Birds
Seniors should be just as thoughtful about their diet and how much they eat as younger adults. Some seniors may eat less due to a variety of challenges, such as memory loss, lack of activity or even depression. The USDA recommends that adults over the age of 50 continue to eat a variety of healthy foods, including fruits, veggies, grains and fats.
Myth: Seniors Are Less Likely to Get Sick from Food
Unfortunately, the opposite is true. The USDA notes that seniors are actually more prone to food-borne illnesses and the complications can be catastrophic. Thanks to a decreased immune system due to age, and decreased stomach acid, seniors can find themselves fighting food-borne illnesses more than their younger counterparts.
Myth: Seniors Don't Have to Cook as Often
While it is true that many seniors living at home often cook for only themselves (or a partner), cooking for such a small audience can actually decrease the desire to cook healthy foods. Many seniors begin to rely on prepackaged foods from the grocery store freezer section. Convenience foods are typically processed foods that are can be high in sodium or preservatives, even if they are easy to pop in a microwave.

Myth: Seniors Don't Need to Eat as Much Protein
Protein is a vital nutrient that aids in healing, and without the proper amount, seniors can slow down their healing process. For seniors with skin breakdown issues, like chronic pressure ulcers, protein intake is a part of most treatment plans. Further, malnutrition has been linked to chronic pressure ulcers, according to a study published in Advanced Wound Care.
Myth: All Seniors Are Diabetic
Although not all seniors are diabetic, many can be on specialized diet recommendations from their doctor. These prescribed diets can include a focus on less salt or less sugar, or can recommend a change to the texture of the food. For example, seniors who have swallowing difficulties could benefit from meals that include food that is pureed. In any case, these specialized diets, while doctor-recommended, can make seniors feel more overwhelmed about cooking for themselves. Without proper support and education, seniors who do have unique nutrition needs can suffer or even become ill.
Myth: Seniors with Memory Loss Don't Have Dietary Concerns
In fact, seniors living with dementia can have ever-changing dietary concerns that caregivers need to work with. From staying safe in the kitchen to forgetting how to use utensils, seniors living with dementia face nutritional challenges that can lead to unhealthy weight loss or gain.
Myth: Seniors Aren't Trying to Lose Weight
Sometimes weight loss is a good thing for seniors. Extra weight can lead to heart and blood sugar complications, as well as increased challenges with mobility and independence. Seniors who are concerned about carrying too much weight should talk to their geriatrician for a healthy weight loss plan. Losing too much weight in an unsafe say can have harmful side effects such as dehydration.
Myth: Seniors Don't Want to Eat with Others
Mealtimes are just as much social times as nutritional times, and this holds even more true for older adults. Without others around the table, seniors are less likely to prepare a healthy meal—or just sit down and eat one.
Older adults face challenges with nutrition that can lead to major complications while living at home alone. Fortunately, senior living communities carry the burden of preparing delicious meals three times per day and they do it well. Residents in senior care communities can enjoy meals with friends and neighbors multiple times throughout the day, and rest assured that their dietary recommendations have been taken care of. Even more importantly, if there are any issues regarding memory loss, exceptional senior care communities offer dining adaptations that preserve dignity and encourage healthy nutrition.
Learn more about how meals are more than just delicious by exploring our Dining with Dignity™ program. If you have any questions about senior care communities, find out what you need to know in our Senior Living Demystified. Bon appétit!