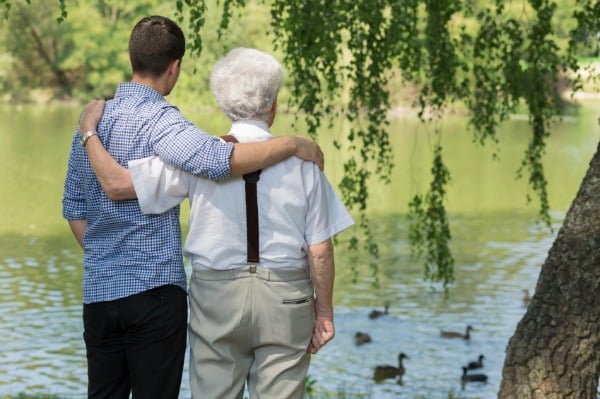 Caring for an aging person can be challenging or even overwhelming, but it can also be very rewarding. Fortunately, when the tough times come, there are a plethora of elder care resources that you can tap into to make everyone's life a little easier. Here are seven of our favorite resources for families looking for help or advice about senior care (beyond this blog).
AARP
It's almost guaranteed, if you are looking after a senior you are going to come across a whole range of issues you need to know about: estate planning, power of attorney, or assisted living, to name but a few. Not surprisingly, the website of AARP (formerly known as the American Association of Retired Persons) has a wealth of solid articles on these and other areas of interest to seniors and their caregivers. Note: This site has a great search function, making it the quickest way to zero in on specific topics.
Alzheimer's Association Caregiver Center
When you are caring for a parent with dementia, it's critical to take good care of yourself so you don't burn out in the process. To garner some extra support, look no further than the Alzheimer's Association's Caregiver Center. It contains information about early-, middle-, and late-stage caregiving, provides online tools such as message boards and free e-courses and, most importantly, runs caregiver support groups, where you can talk through challenges and share feelings and concerns with other caregivers.
ARCH National Respite Network and Resource Center
If you're at the point where you need a break, consider hooking up with a program that provides respite care (planned or emergency care that gives family caregivers temporary relief). The ARCH National Respite Network and Resource Center website can fill you in on various types of programs and give guidelines on choosing the best one for you. You can also search for respite care programs in your state.
Fall Prevention Center of Excellence
Given that falls are the number one cause of injury among seniors, the Fall Prevention Center of Excellence website is one elder resource you should definitely know about. There are plenty of guides and tips on such topics as talking to a doctor about falls, medications that might cause falls in the elderly and basic modifications that can help make your home safer.
Health in Aging
If you are dealing with an elder who has a myriad of health problems, be sure to check out the American Geriatrics Society's Health in Aging website. The Aging & Health: A to Z section discusses more than 60 health conditions common among older people, listing symptoms, diagnosis, treatment and lifestyle approaches. The site also discusses medications that older adults should either avoid or use with caution.
NIH Senior Health
The National Institutes of Health also puts out a solid website that features basic health and wellness information geared to older adults. NIHSeniorHealth contains modules on Alzheimer's disease as well as info on fall injuries, osteoporosis, vision and hearing, and more.
Paying for Senior Care
This great website was created by the American Elder Care Research Organization as a result of the founders' own experiences of sorting through the maze of program eligibility requirements for their loved ones. Paying for Senior Care provides handy charts on senior care options, allowing you to quickly determine the benefits and coverage areas offered by each financial assistance and care choice. It also suggests ways to lower care costs and looks at technologies that can help seniors age at home.
Veteran's Affairs Benefits: Aid & Attendance and Housebound
Veterans Affairs provides a host of benefits for veterans and survivors, including the relatively little-known Aid & Attendance and Housebound Improved Pension benefit (A&A). This financial support is designed for vets who are eligible for a VA pension and need the aid and attendance of another person or are housebound. A&A covers the costs of caregivers in the home (including sons and daughters who are paid to be caregivers); it can also be used if the veteran lives in an assisted living community or a nursing home.

Are you concerned that your parent or other elderly loved one may be experiencing or at risk for age-related cognitive decline? Click below to download our free guide, Home for the Holidays, and get useful conversation tips and suggestions to help you evaluate their health and safety this season.