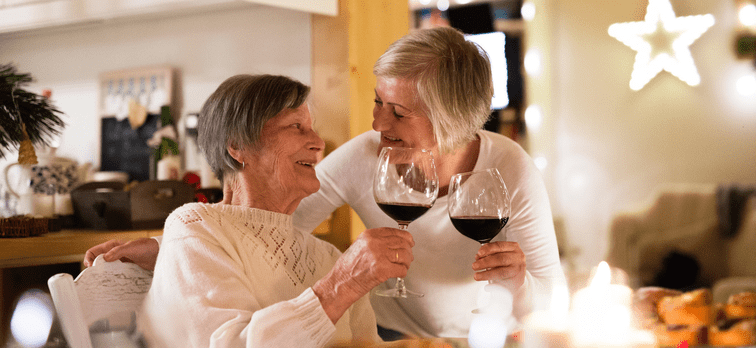 The holiday season is upon us, which means many of us will be piling into cars or boarding airplanes to head home in celebration. If your holiday schedule lets you stop by to spend time with your senior loved one, you have an opportunity to not only catch up and spread some love, but also to evaluate their health and living situation. Whether you live near your senior loved one or many states away, these are a few signs that your loved one may not be thriving in the current living situation.
Increased Fatigue
Does your once active senior loved one appear more tired this year? Increased fatigue could indicate a health concern, especially if your loved one lives at home alone. If your loved one is too exhausted, or becomes too fatigued to complete daily tasks (such as showering, cooking or enjoying a neighborhood walk), she is more likely to skip these tasks altogether. Exhibiting more signs of fatigue could also be a sign that your loved one's health condition will no longer be supported by her current living situation; it could demonstrate that your loved one is trying too hard to keep up with tasks that he could execute without problems in the past.
Medication Inconsistencies
Did you notice that your loved one's pill box was too full, or not full enough? Signs of medication mismanagement should trigger immediate follow-up on your end. If your loved ones are unable to manage their medications, whether due to memory or physical complications, this situation could lead to serious consequences like unmanaged or unmanageable pain, hospital visits or even death.
Unmanaged Pain
Speaking of pain, did you notice your loved one grimacing during dinner? If your senior loved one complained of chronic pain during your visit, this could be a red flag indicating their current living situation. If your loved one is living alone, chronic and unresolved pain could lead to lower quality of life as well as unnecessary stress. If you are visiting your senior loved one in a senior living community, unmanaged pain could be a sign that your loved one is not receiving attentive care.
Perceived Loneliness
If your loved one confides in you that she is lonely, take her view seriously. Loneliness or perceived loneliness can be detrimental to the emotional, mental and even physical health of seniors. Lack of a peer support system can lead to a persistent sense of depression and isolation. If your loved one is lacking friends or regular interaction with people, her health will suffer.
Poor Hygiene
While visiting your loved one this holiday season, take notice of his personal and home hygiene. Does Dad wear the same shirt for days on end? Does the house have an unpleasant, mildewy or stale odor? Any signs of poor hygiene could indicate memory problems or demonstrate that daily tasks are too much for your loved one to physically complete.
Isolation or Decreased Engagement
If your loved one resides in a senior living community, and you notice that she (or he) is not talking about her neighbors or community activities in a positive way, this could indicate low engagement in the community. Senior living communities should offer activities that encourage residents to get out of their apartments, leaving isolation tendencies behind, and meet new people. This engagement is a major benefit of senior living; if your loved one is not active within the community, it could be time to consider a new community that could help your loved one get involved and stay involved.
The holiday season is an excellent time for creating happy memories with all generations around the table. However, while you are making those memories, be sure to keep an eye on your senior loved one. Your observations, and your conversations together, can be a roadmap for getting medical or social assistance for your loved one.
One way for your loved one to ensure the process of aging successfully and living as independently as possible is the consideration of a senior living community. Staffed with specially trained nurses, caregivers and ancillary team members, these active communities offer much more than just an apartment. Residents in exceptional senior living communities enjoy amenities such as delicious meals prepared by a chef, events and enjoyable outings with neighbors, transportation services, and increased chances to make important connections with peers.
If you have noticed any red flags about your loved one's health, take appropriate steps to investigate further. Your loved one deserves to feel great and might need a positive change.