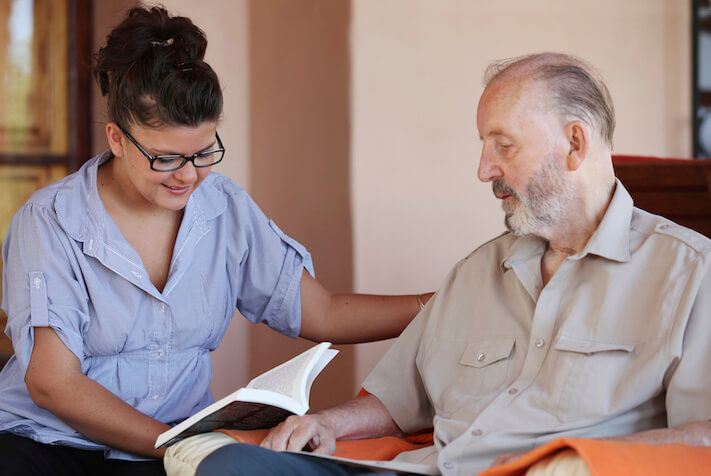 Looking after an aging parent could be one of the most challenging, important and meaningful tasks you ever take on, but it's a complex role, and if you're not prepared, you could easily be overwhelmed. Here are some things to consider for your future caregiving role.
1. Caregiving Requires a Huge Commitment of Time and Energy
Looking after an aging parent involves a lot of responsibility, and it's easy to underestimate the amount of time needed to do the job properly. On top of looking after your parent's health careneeds, you may have to pay bills, fill out forms, declutter a house and coordinate medical appointments. Added to this, you may need to find activities to keep your loved one stimulated and engaged with life. Ask yourself how much time, energy and financial resources you can realistically devote to the task.
2. Asking for Help Will Help Keep Your Sanity
Soliciting support can keep you from overextending yourself and compromising your mental and physical health or the care of your parent. Ask your friends, siblings and other family members for their assistance, and keep in mind that most communities have a number of free and fee-based services that can help caregivers out. For instance, Meals on Wheels can provide hot meals while an adult day care center can give you a break during the week. Also, consider engaging a home health care agency, which can deliver on-site nursing care or physical or occupational therapy as well as personal care support or companionship. Another popular alternative is an assisted living community, which provides residents with three meals a day, housekeeping and laundry, personal care assistance, medication management and a whole roster of social activities. This is a great option because it ensures that Mom is active and engaged throughout the day, even while you are at work.
3. Managing Stress is Also Key
Even if you have a good-size support team, rest assured that caregiving will still have its stressful moments. No matter how packed your days may be , it's vital that you take the time for regular relaxation, be it going for a walk to unwind, listening to relaxation tapes or meditating. Remember to pause if you notice you are feeling worried and take a moment to breathe. Talk with a friend who has had caregiving experience or, better yet, join a caregiver support group. Don't be afraid to seek professional help if you see signs of depression or anxiety, and remember that physical activity releases endorphins. Taking the time to really connect with the Mom or Dad can be a positive experience for you both, but it's hard to be Zen-like when you are feeling frazzled.
4. Seniors Sometimes Have Complex Medical Conditions
Older adults often have multiple health issues, which may be hard to treat. It can be especially challenging if they have dementia, which not only affects memory loss, but can involve the loss of fine motor skills and body functions and lead to erratic behaviors like lashing out at others or making wild accusations. Furthermore, longstanding medications may begin to cause unexpected side effects as a person ages, such as insomnia, memory problems or delusional behavior. It's a wise idea to get a referral to a geriatrician, as they understand how medications can interact in an elder. Also be sure to ask for your parent's consent to speak to their health care professionals so that you can address any concerns you have about their health.
5. Advance Planning Can Save You Grief
Providing care can be much less stressful if the family starts planning for the future before your parents start showing signs of decline. (Take note that your parents resist talking about the future, let alone taking action.) Ensuring that wills, medical directives and financial Power of Attorneys are in place while your parents can still manage their money and make decisions can save you an untold amount of time, money and heartache. As well, take heed of this Moneysense article, which advises that caregivers find out:
Where their parents keep important documents

What bank accounts, investment and insurance policies they own

Where their income comes from

How they want funeral arrangements handled
Although caregiving is never painless, a little planning, support and information can make the process a whole lot smoother.