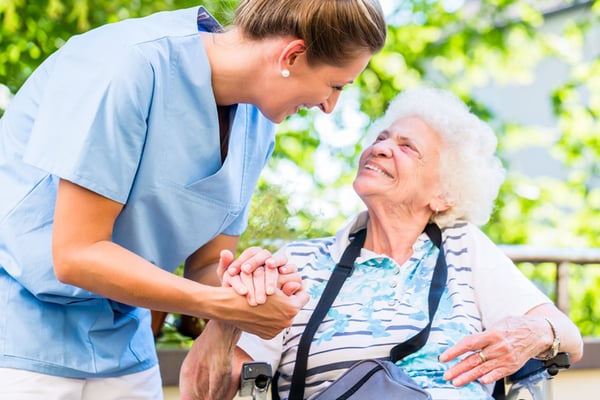 Aging isn't a linear journey, and it's different for everyone. Some people remain healthy until they take their last breath. Others follow a path of slow and steady decline, needing progressively more care as they age. For many, the journey is full of fits and starts. A senior may be mostly healthy, but suffer an injury or short-term illness that requires extra help until they get back on their feet. That's where transitional care comes in.
Transitional care is an approach to care that provides targeted assistance, usually on a short-term basis. Quality transitional care providers coordinate with the patient's doctor and caregiver and with long-term care communities. Transitional care usually lasts a few weeks and may occur in a hospital-like setting or in the comfort of a patient's home. Here are three situations in which it might be right for your loved one.
Short-Term Acute Need
If your loved one has a short-term need because of an acute condition, transitional care may be appropriate. For example, some seniors move to transitional care after breaking a bone, suffering a stroke or heart attack, or experiencing a serious infection. In these situations, transitional care helps your loved one focus on getting better.
Transitioning Home After a Hospital Stay
The time after a hospitalization can be challenging. Your loved one may not be fully recovered. If the hospitalization was long, adjusting from 24/7 help to little or no help can be stressful and even dangerous.
Following hospitalization for a serious illness, your loved one may need additional help to manage medication, cope with daily tasks, and get progressively stronger. Transitional care is an excellent option that may reduce the risk of rehospitalization and serious complications.
Adapting to Life With a Chronic Illness
A chronic illness can radically change the way your loved one lives. Cardiovascular disease may require a new diet, various medications, and a radical lifestyle overhaul. Diabetes requires extensive monitoring and a new approach to food. Adjusting to a chronic illness can be difficult, especially until your loved one establishes a healthy routine.
Some seniors use transitional care to help them adjust to life with a chronic illness. Transitional care can be especially helpful to seniors recently hospitalized for a newly diagnosed chronic illness because it ensures they get the daily care they need. As your loved one gains the ability to manage their medication and make healthy lifestyle choices, they may move out of transitional care.
Transitioning out of Transitional Care
For some seniors, a stay in transitional care triggers discussions about their long-term care plans. Some find that they no longer feel comfortable returning home without care. Others feel that living alone undermines their independence and begin looking for other options.
For seniors who don't want to return to living alone at home after transitional care, senior living offers a number of great options. For seniors in good health who want to remain independent for as long as possible, independent living offers luxury homes, gourmet meals, plenty of activities, easy socialization, and help when you need it.
Assisted living merges the benefits of independent living with significantly more support. It's a great option for seniors with chronic illness, cognitive conditions, and any diagnosis that interferes with activities of daily living, such as bathing or getting dressed.
Memory care offers more intensive support to seniors with dementia, but it's not right for everyone. Seniors with mild to moderate cognitive decline may need more help than assisted living can offer, despite not yet being ready for memory care. At Arbor, we offer a special program just for them. Our "Bridges" program offers care that bridges the gap between assisted living and memory care, ensuring your loved one gets the support they need. It's a great option for seniors with memory issues who are moving out of transitional care.
We'd love to help you evaluate your options for life after transitional care. To learn more, give us a call or check out our Journey to Senior Living guide.