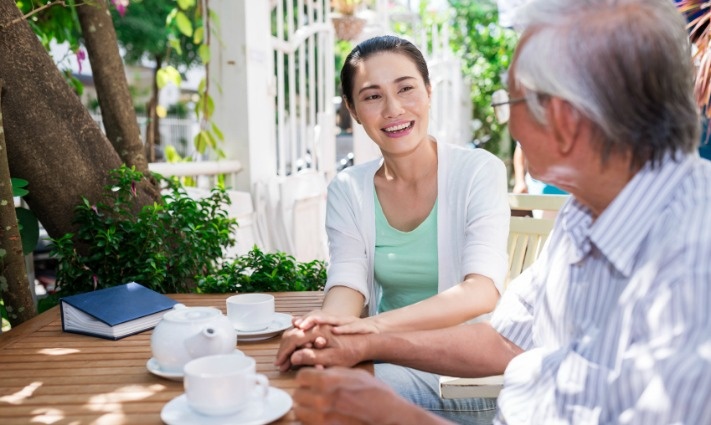 It can be nerve-wracking if not downright painful to watch aging parents make unwise (to you) decisions or put off getting the help they really need. Because this is such a common dilemma and one of the most difficult ones an adult child can face, we've come up with some thoughts on how you can navigate more easily through this potentially tense territory.
Any time there is a disagreement between adult children and aging parents, it's important to remember that everyone has things it's hard to let go of. Many seniors have fears of losing independence and self-will, while their children worry about being able to provide proper care while continuing to maintain their other personal and professional obligations. It's easy for tempers to flare and tensions to rise. Remember to take a breath before you begin, and follow these 15 hints.
1. Be Persistent
Don't set yourself up with the expectation that everything should be resolved in one sitting. You will probably have to bring up your concerns to your parents countless times -- so be patient.
2. Avoid Power Struggles
Don't push, nag or harangue your parents. Making ultimatums will only get their backs up, and yelling, arguing or slamming doors could seriously damage the relationship.
3. Be Sensitive
Criticism and judgement can also put your parents on the defensive. Bluntly telling Mom and Dad they don't know how to manage their own lives will not win them over. Instead, keep to "I" statements, like: "I'm feeling concerned because you look like you're losing weight and I'm worried that you're not eating enough."
4. Know That Timing is Everything
Make sure you choose to have challenging conversations on days when your parents are feeling relaxed rather than depressed or anxious. That goes for you too -- delay talking if you feel particularly stressed as your anxiety will only add to their fear.
5. Stay calm
On some level your parents may be very aware they are losing function, so avoiding the talking about their future might seem safer to them than admitting reality. Stating your concerns calmly and speaking with love and tenderness can help reassure them that a change will be okay.
6. Seek Outside Help -- for Yourself
Of course, being serene and soothing may not come easily if you feel frightened, helpless and frustrated yourself. If this is the case, please divert some of your caregiving energy to yourself and get some outside support, be it a meditation group, a counsellor, or a support group.
7. Spend More Time With Them
Although you may not have scads of time on their hands, try spending a little more of it with your parents (that is, if the relationship is not conflictual). As your mother and father grow frailer, they will likely appreciate a little more attention. Your interactions might even become more harmonious if they know you are prioritizing the relationship instead of squeezing it into a hectic schedule.
8. Ask Questions
Instead of talking at your parents, it's more to ask open-ended questions (e.g., Why don't you want cousin Mary to come in and fix your meals?). In a best case scenario, this approach may allow them to reflect upon their situation, concluding that a change really is in order.
9. Come Up With Solutions
If you manage to gain insight into your parents' underlying concerns (say, they fear they will end up in a nursing home) then suggest a tailored solution. But don't come up with a quick fix on the fly, take the time to do your research first, for example, checking out various senior living options and then asking your parents out for lunch at one of the communities.
10. Focus on the Benefits
As well, always focus on the benefits of your proposed solution. For instance, if you see assisted living as the answer, emphasize the variety of social and recreational activities that these communities offer.
11. Bring in Other Siblings
Remember, caregiving is a large responsibility, one that you shouldn't have to do alone. If you have other siblings, ask them to talk to Mom and Dad. Just make sure that you see eye to eye on the important issues.
12. Enlist the Support of Friends
Consider setting up a family meeting that includes a close friend or neighbor. Sometimes it can be easier to hear the truth from someone outside of the family.
13. Talk to Their Doctor
If all else fails, contact your parents' doctor, letting him or her know about your concerns for your parents' well-being. In the end, a medical professional may be the one person whose advice your parents will heed.
14. Outline the Consequences
If your parents are still bound and determined to stay in their four-bedroom house or to keep on driving, calmly let them know the possible consequences of their actions.
15. Don't Count on Them Changing
In the final analysis, there may be nothing you can do to change a parent's mind. Remember, your parents are grown adults who have the right to make their own decisions, and sometimes the best you can do is let go and accept the situation.